Kitefoil 5.0 Ultimate
Kitefoil 5.0 Ultimate
Accessible for all riders from the beginners to competitors it is the most affordable financial of 5.0 Titanium. With performance of RTeam (Race Team) "S" Mast shape and thinner, It is guarantee of perfect slide with perfect weight. Delivered with a choice of RTeam wing.
Its new ultra sharpened Aluminium 6061 T6 fuselage is manufactured with CNC machining center 5 axes from only one titane bloc. This technical allows total integrity of the material to have more rigidity and strength. With this the shape is 60% more thinner that a carbon fuselage and particular forms to the junction wing impossible to create with traditional molding. Thus stability is perfect.
This Aluminium 6061 T6 is used in aeronautic industry . Is recognized in ratio resistance/weight very high and for negligible tendency to oxidize The Ultimate 5.0 fuselage is manufactured in ultramodern company specialized in aeronautic material.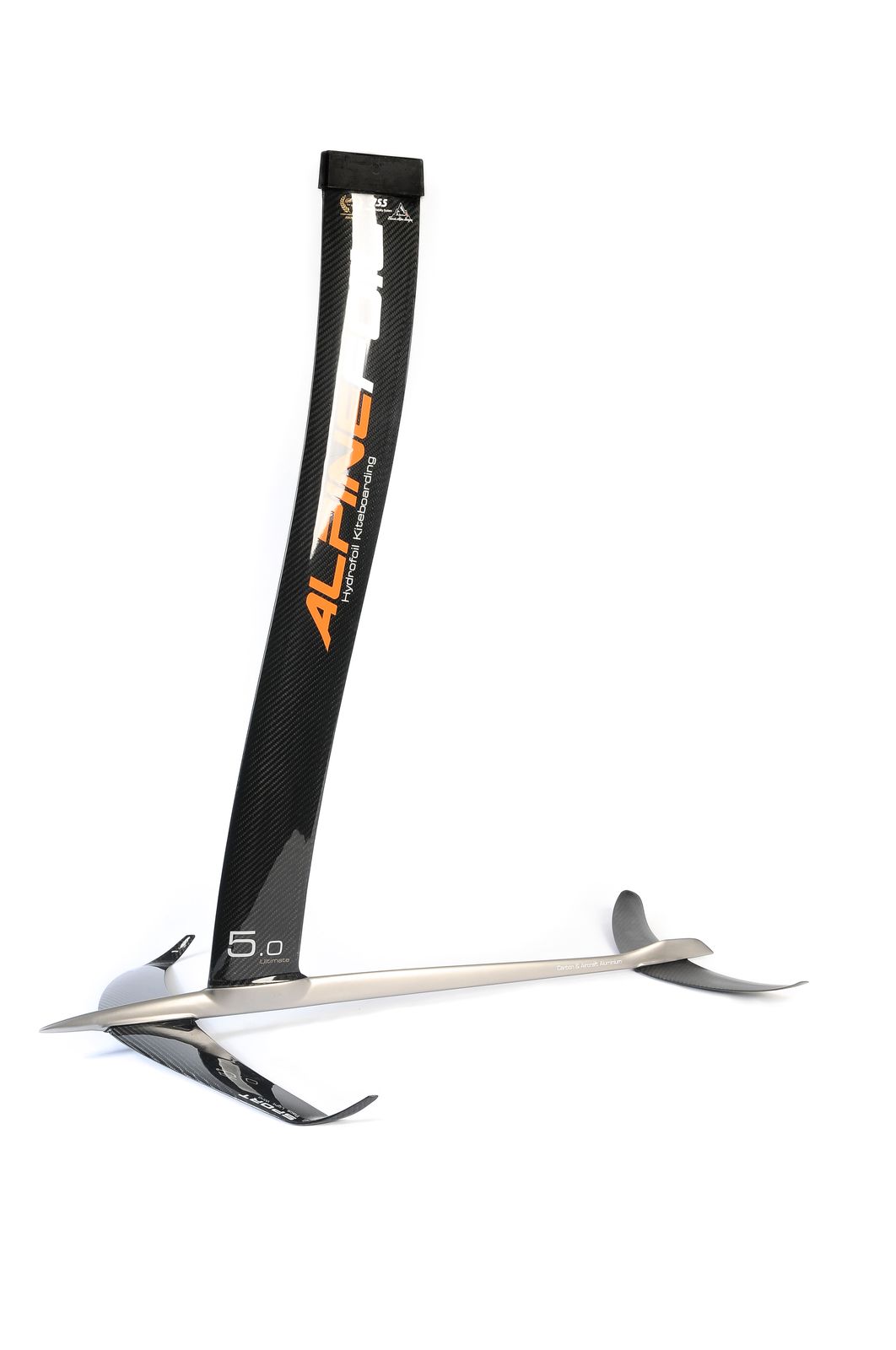 The RSS system (Reflex Stability System) one Alpinefoil success compensate the wing torque according to the speed. With this technology, the Titanium 5.0 breaking records of stability both slow and high speed.
The drift is discrete but with formidable efficiency provide a linear stability of foil.
Its 4 threads are positioned in a stagerred arrangement to share in the best way wings' support on fuselage for more rigidity and cohesion of the assembly. This system offers a total compatibility with all wings (Wave, Sport, GT, XLP, Race…).
The new 100 cm Carbon RTeam Mast is manufactured with technology ACS (Anti Cavitation System), an Alpinefoil exclusivity. This "S" shape allows increase immersed portion of mast and restrict cavitation buble. The limited of disengagement is postponed relative to right mast. It creates with MCF (Monobloc Constant Fiber) technology by Alpinefoil for a exceptional rigidity.
It is been offered with standard KF-Box (Kitefoil Box) manufactured specially for foil. It allows distribute stress on 5 sides and generate a total rigidity in all case. Using of standard KF-Box allows compatibility of 5.0 full carbon with all Alpinefoils boards ( VR5, VR6, VR7, CXV6S...) but also other boards as F-one, 3 G composites or Camet
The GIS of Access and Ultimate preserves wing cover and modificate clamping foil.
That's why the kitefoil 5.0 Ultimate is delivered with 8 isolators timing, 4 in front and 4 in back to adjust behaviour foil according to rider level, choice of board ,wing and stabilisator. The GIS isolators are provided with centering guide.
its new design of stabilisator increase control and stability to a high speed.
For le kitefoil 5.0 Ultimate, Alpinefoil wants to create a high resistant material to optimize the shape, the fuselage.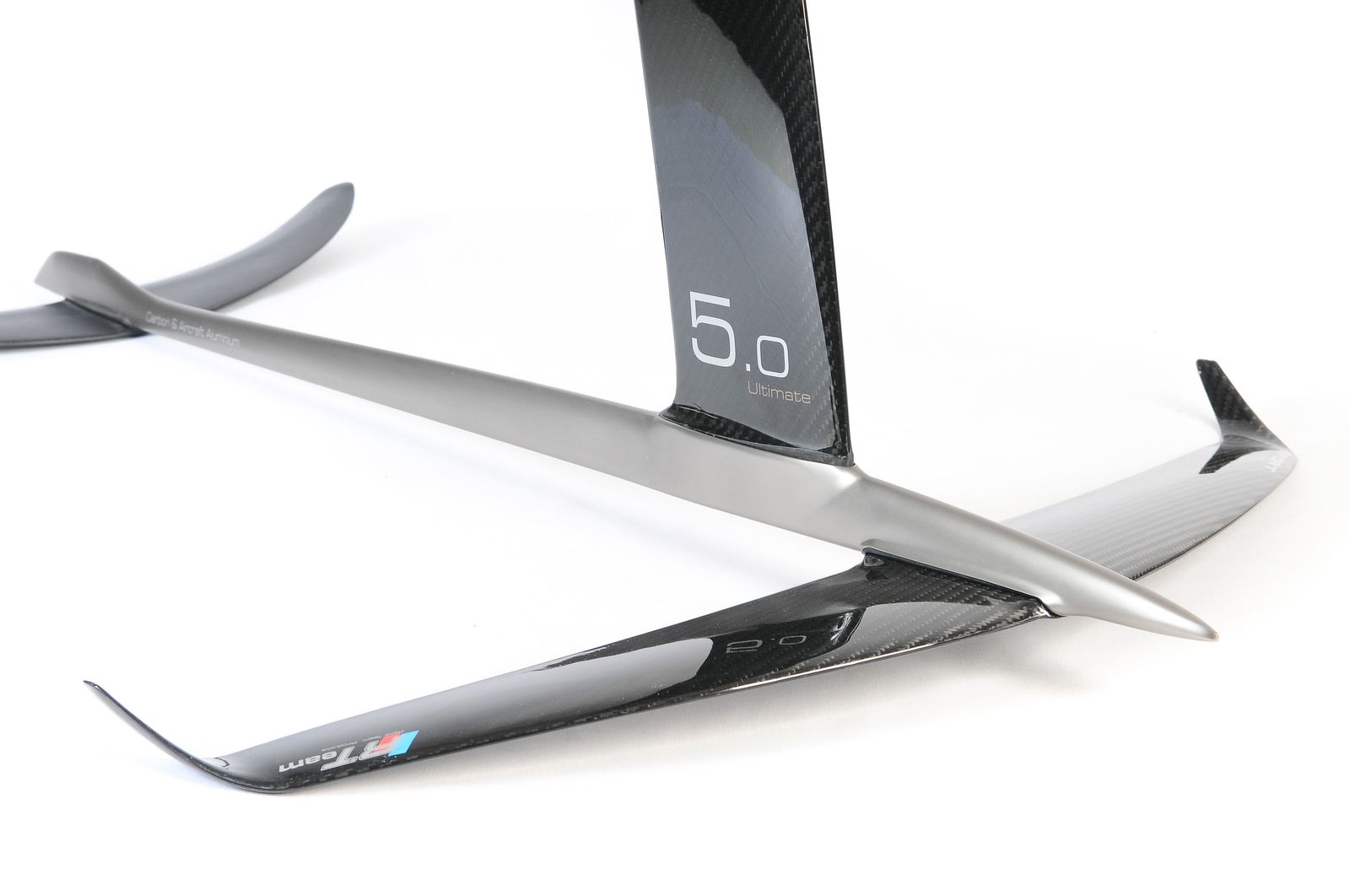 For more information contact US !