Kitefoil Alpinefoil Access V2.07 2017
Kitefoil Alpinefoil Access V2.07 2017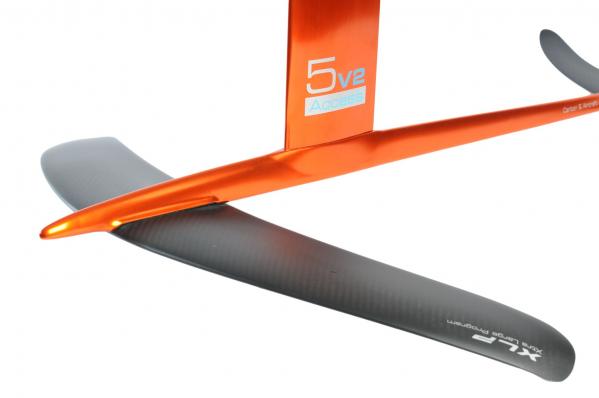 To buy your AlpineFoil kitefoil Access V2.07 2017, go to the online shop.

INNOVATION : 2017 - Version 2.07
- New Fuselage with drift more thinner and more high to reduce trail and increase slide
- New wedge system for more stability.
- New security system with leash inside of mast
- New KF-box with inox inserts
- Short mast of 60cm (pack), 80 cm and custom mast.
- Universal compatibility wit all brand board thanks to built it box KF-Box (Alpinefoil,F-One,Ketos), Deep KFBOX (F-one) Tuttle box with height adjustable plate (WIndfoil,Spotzboard, Camet, Axis), DEEP TUTLE with height adjustable plate (Windfoil) 4 holes plate 165-140 x 90 (Slingshot, Cabrinha,Luiquid Force, ...) , and Probox (Sroka board, Sword2).
New for 2017, the Alpinefoil 5.0 Access V2.07 is the direct evolution of Alpinefoil Access 2016. Modern design, performance comparable to the best carbon foils and an affordable price make the ACCESS V2 5.0.07 a unique product in the kitefoil universe.
The ACCESS 5.0 V2.07 is designed to be ACCESSible to all riders. Beginners will progress quickly and confidently while more experienced riders will climb the steps of the podium. The Alpinefoil Access is the first aluminium foil to hit 30 knots (with the Alpinefoil Sport wing).
Unique and exclusive to Alpinefoil, our patented GIS galvanic isolator system, allows us to use carbon wings and an aluminium fuselage without risk of galvanic corrosion.
Exclusive to Alpinefoil, the injection moldied GIS wedges electrically isolate the components of the foil and thus entirely eliminates electrolysis from the contact between the carbon and aluminum.
The second function of the GIS wedges is to allow the ACCESS 5.0 V2.07 the most extensive versatility on the market. The ACCESS 5.0 V2 .07 comes with a full set of 8 different GIS wedges – 4 front and 4 back – that allow you to adjust the angle of the foil according to your preference, your riding style, your Alpinefoil (or other brand) board, and your choice of wing and stabilizer.
This system also allows the Access 5.0 V2.07 to be particularly suitable for the practice of the foil windsurfing, which requires a much larger pitch than the kitefoil. This innovation ensures perfect compatibility with existing and all future Alpinefoil wings.
For easier assembly, GIS insulators are now clipped directly onto the fuselage !
​
Settings for Alpinefoil boards: VR5,VR6,VR7, CXV6S...
Foil novices and learning to foil: 0° on the front wing, 0° on the stabilizer
Freestyle and Freeride: 0° on the front wing and 0.7°–1.1° on the stabilizer
Waves: 0° on the front wing and 0.7°–1.1° on the stabilizer
Race: (XLP Wing) 0° on the front wing and 1.1° on the stabilizer
Race: (Sport Wing) 0° on the front wing, 0° on the stabilizer
Race (HELD Wing) 1.5° on the front wing and 0°–1.1° on the stabilizer
The RSS (Reflex Stability System), which has contributed hugely to the success of Alpinefoils, automatically compensates for the "hunting" torque of the wing. Equipped with this technology, the ACCESS V2 5.0.07 beats records of stability and behavior remains consistent from 6 knots to 30 knots.
At Alpinefoil, we believe a good knowledge of mechanical engineering is an absolute requirement for the manufacture of a high performance foil. The forces generated by a kite foil are massive, and these forces are focused most of all on the on the fuselage-mast and mast-board joints. Imagine the phenomenal forces generated by flying along at 20+ knots, carvings turns and throwing foiling back loops spread over only a few square centimeters, and then repeat that session after session after session. It seemed obvious to us to study these forces, conduct simulations, build prototypes, and run engineering tests to find what kind of mechanical connection offered the best rigidity and what materials could best meet our requirements. In many cases we have developed our own manufacturing processes and technologies to enable the desired performance of our products. For over 10 years now, we rely on a combination of experience and innovation to create incredibly light, extremely rigid and increasingly efficient kite foils.
We continue to use the now standard KF-Box foil mount (KiteFoil Box), the only box specifically designed for the foil. This box distributes the massive loads on the five large surfaces of the mast-box connection, providing superior rigidity and durability. Using this standard KF-Box makes the 5.0 Full Carbon compatible with all Alpinefoil foilboards (VR5,VR6,VR7, CXV6S) as well as foil boards from other manufacturers such as F-One, 3G Camet.
The Alpinefoil Access 5.0 V2.07 can also be ordered with other mounts: Tuttle box, Platinum mount (compatible Liquidforce, Sword 1, Carafino and many other boards), and Probox (compatible with Sroka, Sword 2 and other boards).
The unique shape of the ACCESS V2 5.0.07 foil was designed and validated in 3D digital modeling, and then tested extensively in real-world conditions. Once we had a prototype that met our design goals we set it loose with our team riders!
The ACCESS 5.0 V2.07 like its predecessor is manufactured from 6061 T6 aluminium normally used in the aerospace industry or the manufacture of pipelines. This type of aluminum is known for its high resistance / weight ratio and its low tendency to oxidize. All components of the ACCESS Aluminium 5.0 V2.07 are manufactured in an ultramodern factory which specializes in aerospace parts.
The mast is shaped by extrusion and then CNC machined. It is then anodized using 70 micron OAD (Hard Anodizing). Its shape has been reworked from the 2015 Access design to reduce cavitation incease maximum speed. Its internal profile is completely redesigned for improved rigidity and easier assembly.
The Alpinefoil Access 5.0 V2.07 is available in normal mast (95 cm) or short mast (60 cm) or a combo pack with both normal and short masts. It is also available with 80cm and custom mast.
The 95cm mast is the normal length – this length is required for comfortable high-speed turns and a full range of flexibility in riding. The length makes the foil less subject to cavitation and therefore to the untimely stalls.
The short 60cm mast is ideal for foil novices and learning to foil. The shorter length means less distance to the water when you fall. Great for schools and teaching!
We offer these two lengths for their benefits to cover all the riding situations. After conducting tests on masts with lengths between 50 cm and 108 cm, we settled on a normal mast of 95 cm and a length of 60 cm for the short mast.
The fuselage is fully machined in 5-axis CNC 5 from a raw aluminum block and then anodised with the 70 micron OAD process. The choice of machining rather than another method ensures complete integrity of the material, without deformation, porosity, impurity, or micro cracks. Unlike traditional manufacturing methods such as turning, molding or stamping, 5-axis machining allows working complex shapes, thus responding point by point to our specifications in terms of shape, strength, adjustment of wings on the fuselage, and optimizing the weight and the material. The result is the lightest aluminum foil on the market which is also capable of incredible performance. This machining technique allows micron precision, ensuring a close fitting of the mast in the fuselage housing. The mechanical stresses are well distributed over the entire housing, thus providing maximum rigidity.
The tiny but incredibly effective vertical stabilizer ensures the linear stability of the foil. The vertical stabilizer is now positioned above the fuselage to avoid any risk of damage when resting the foil on the ground.
Four screw inserts are staggered to distribute to provide the best connection of the wing to the fuselage, ensuring the rigidity and cohesion of the components as a system. This system now standard on all Alpinefoils and allows full compatibility with all our existing and future wings (Wave, Sport, GT, XLP, Race, etc...).
The XLP 2 wing that ships with the Alpinefoil 5.0 has been redesigned and is built with our exclusive MCF (Monobloc Continuous Carbon Fiber) Technology for rigidity, improving the control and performance of the foil, whatever the wind speed. The XLP 2 is the must-have wing from Alpinefoil. It enables beginners to learn to foil and move with confidence, while the more experienced rider can achieve speeds of up to ~28 knots. The XLP 2 has an area of 682 cm² and the progressively recurved wings allow complete control from 4 knots without being overpowered.
The rear stabilizer wing has been designed to increase control in low range and high-speed stability.
Like all our foils, the Alpinefoil ACCESS 5.0 V2 is easy to disassemble and packs fully flat for easy transport in the optional Alpinefoil travel case.

The combination of carbon and aluminum, exclusive to Alpinefoil, allowed us to create a foil with top-class performance at a very affordable price. The choice of quality materials, careful design and excellent performance make the ACCESS V2 5.0 Alpinefoil a sure win for riders all over the world !
User Review
Harold Shim UAE
"Hi Damien, Have been riding the 5.0 V2 for a while now and love it!! It's such a beautiful design and it all fits together so precise!"

Joao Polo Germanos Brazil
"Hello Alpinefoil Riders, thank you for let me join this group. Great surprise last week when I received my RX V5 board and the beautiful Access 5.0 foil with XLP. Special thanks for Damien (and Magali) support on the technical choice and shipping, for this first complete gear Alpinefoil in SP, Ilhabela, Brazil. All videos and instructions from Damien were also very useful. The foil and board immediately caugh attention on the beach by its colours, finishing and light weight. I am very beginner but had the opportunity to first test this weekend, with three experienced friends, including Miler Morais twice brazilian kitesurf champion and currently one of the few and best foil riders in Brazil. He did not know Alpinefoil and was simply amazed by performance, stability and control. Love at first ride ! JP"

C Rush Mac USA
"First full session on the sport wing yesterday in 15-25+kts Flew my 7.5 wainman. At one point I realized I had never had that much fun on the water. Wing feels so right. So quick and agile, but more stable the faster you go. Looking forward to getting my 8m edge repaired so I can let the sport wing stretch its legs


To buy your AlpineFoil kitefoil Access V2.07 2017, go to the online shop.

Which AlpineFoil kitefoil to buy ? How to choose your foil according to your level : beginner, confirmed, expert ? How much is it ? New or secondhand ? Contact us here.
Windfoil Alpinefoil ALU A1 - Price 1299 euros
Windfoil Alpinefoil CARBON A1 - Price 1879 euros