Alpine Rider - Jean Marie Tatahi Chaboud
Jean Marie Tatahi Chaboud is an Alpinefoil wingfoil and kitefoil rider but above all he is a lover of many outdoor sports. He opens the doors of his experiences to us through this portrait which takes us on a journey through the time of a few lines.
"A sixth decade well underway since my birth in Nice and two thirds of my life spent on the water, the snow, in the air, on the trails or even on the asphalt to take full advantage of what we can offer life . My activities mainly take place in a magnificent natural setting in a department blessed by the Gods, the Var, which is full of possibilities by the sea but also within the framework of what is called green Provence, a little set back from the coast where I have lived for a very long time, aware of the possibilities that this location offered me. I also realized a lot of travel dreams among others Hawaii but also fly in Wales by speedflying on wild coastal sites, in the Canaries by mixing a funboard practice and later kite in the waves, Tunisia, Italy, Spain , West Indies, Indian Ocean where I was able to participate in one of the first Megavalanches in Reunion, downhill mountain bike race with 3500 m of vertical drop. Do not forget the trips on the hexagon which can bring just as much adrenaline, the Southern and Northern Alps in Speedriding, Brittany, the Basque Country with its Landes coast but also the Aveyron that I crossed during several mountain bike stage races the Vercors and its Nordic landscapes for snowkiting and so on. Quite a lot of Enduro mountain biking and running training on the paths or even hiking. I foil since 2013, my practice is rather sporty ride in freerace and big air, in extended box wings type Sonic Flysurfer, but for 3 months I have mainly been practicing Wingfoil especially since I discovered the Regatta, Alpine wing with elongated profile on a Rave 80.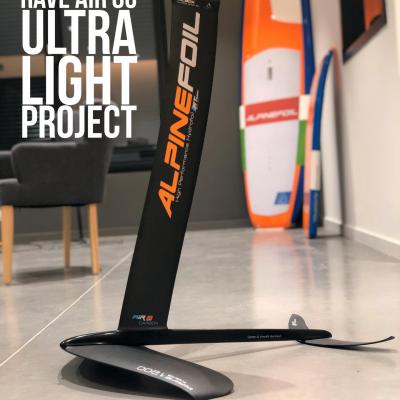 I have the chance to share all these passions with my partner Martine who gives me a boost when needed. Everything is much better for two! I am a Surgeon-Dentist fulfilled by his practice but not for very long, I would soon have much more leisure to devote to my other passions among others the Tubelesskite Forum mainly centered on box wings, which I created and which I have been managing since 2009. For the kite, I usually sail with a foil or with a directional board that I had developed with the ROOTS shaper, the Slice. As for the material, I love my Race Light Wind, a 700 front wing on a Rave 100 with a Sonic 3 15 or a Soul, the bay of Almanarre is a big playground and there are what to do to refine the maneuvers, try new tricks or go into orbit, since a dozen foilkite knots are enough to do so. I like big curves in the swell with good speed, whether in kitefoil or Wingfoil, so for me, it's rather small foil wing and large kite wing, in Wing, slender wing and small surface area as soon as the wind permits. A session is the opportunity to meet your friends, meet new ones, exchange ideas but also material. We also take advantage of the surroundings we love and of course we can discover new destinations, in short, we seize the slightest opportunity to spend moments rich in intensity and emotions because life is really too short. On the occasion to meet again! "
You need to be connected to post a comment