Alpine Rider - Steeve Lenne
Steeve Lenne is a 29 year old Alpinefoil rider from Nivelles in Belgium. He is also a piano teacher and concert pianist. But his other passion, but it is board sports and more particularly windsurfing that he has been practicing for 15 years and kitesurfing for 6 years. Meet this enthusiast!
-How did you come up with the idea of ​​foiling? Since when ?

The desire came to me as I watched the kitefoils pass in front of me on Monteynard Lake and at the end of the 2015 season, I decided to contact Damien Chaboud to try to adapt one on one of my old boards. In 2016 I had the chance to be the first to sail in Alpinefoil windfoil on Lake Monteynard.
-What is your level today?

Expert
How many hours do you take in your workouts?

It does not count anymore at this stage
Which practice do you prefer?

I practice kitefoil and windfoil but my favorite practice is still windfoil in race mode!
- What are the foil trips that you have already done (other places in your country, foreign countries)?

I had the opportunity to sail in France at Carteau, Almanarre, la ciotat, saint cyr, leucate and most often at Monteynard. In Belgium at the water hour dam and in Holland at Veersemeer and Brouwersdam.
- Do you participate in competitions?

Not yet but it tempts me more and more!
-What are your future projects in the industry?

I hope with all my heart to continue to be able to participate in the advances at alpinefoil and to continue to introduce these foils to as many riders as possible.
-What does the foil bring you?

It clears my head, we're in the air, focused, thinking about nothing else, it's a lot of good. Beyond that the foil allows me to sail much more often because with only 5-6 knots we can fly!
-What material do you use and why do you like it?

Since this year it's been the alpinefoil A1 race, which in my opinion is the easiest foil race I have tried. It is stable, fast, a crazy course and thanks to the regatta the jibe in the air has become a formality, my record this summer is 45 min without touching the water thanks to this foil!
En savoir plus sur ce texte sourceVous devez indiquer le texte source pour obtenir des informations supplémentaires
-Do you practice other sports activities or not alongside?

I also practice catamaran, wakeboard, mountain biking and tennis.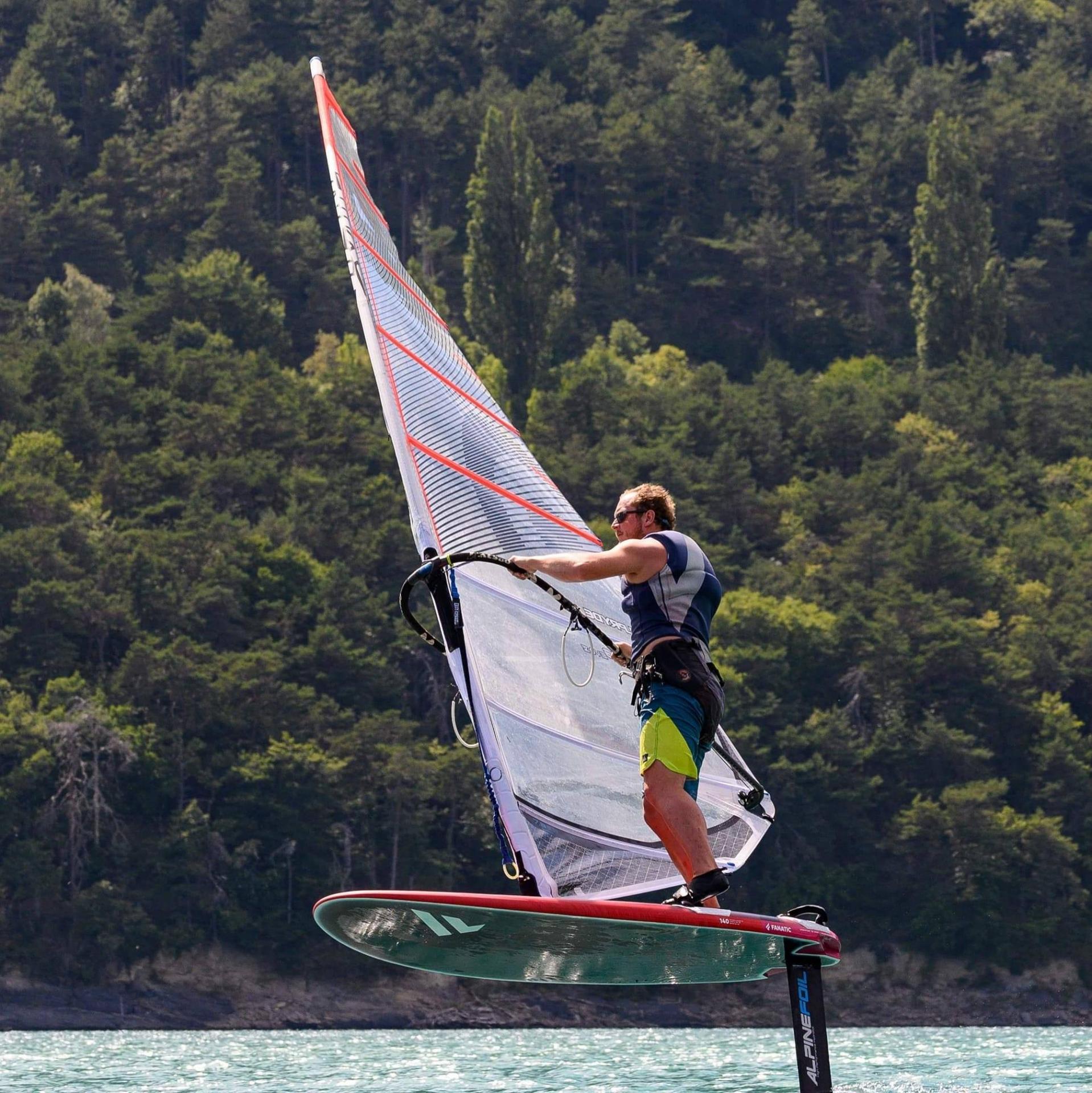 You need to be connected to post a comment