Kitefoil VR6 Freeride Race Foilboard 4.5 x 18.5 - 26 Liters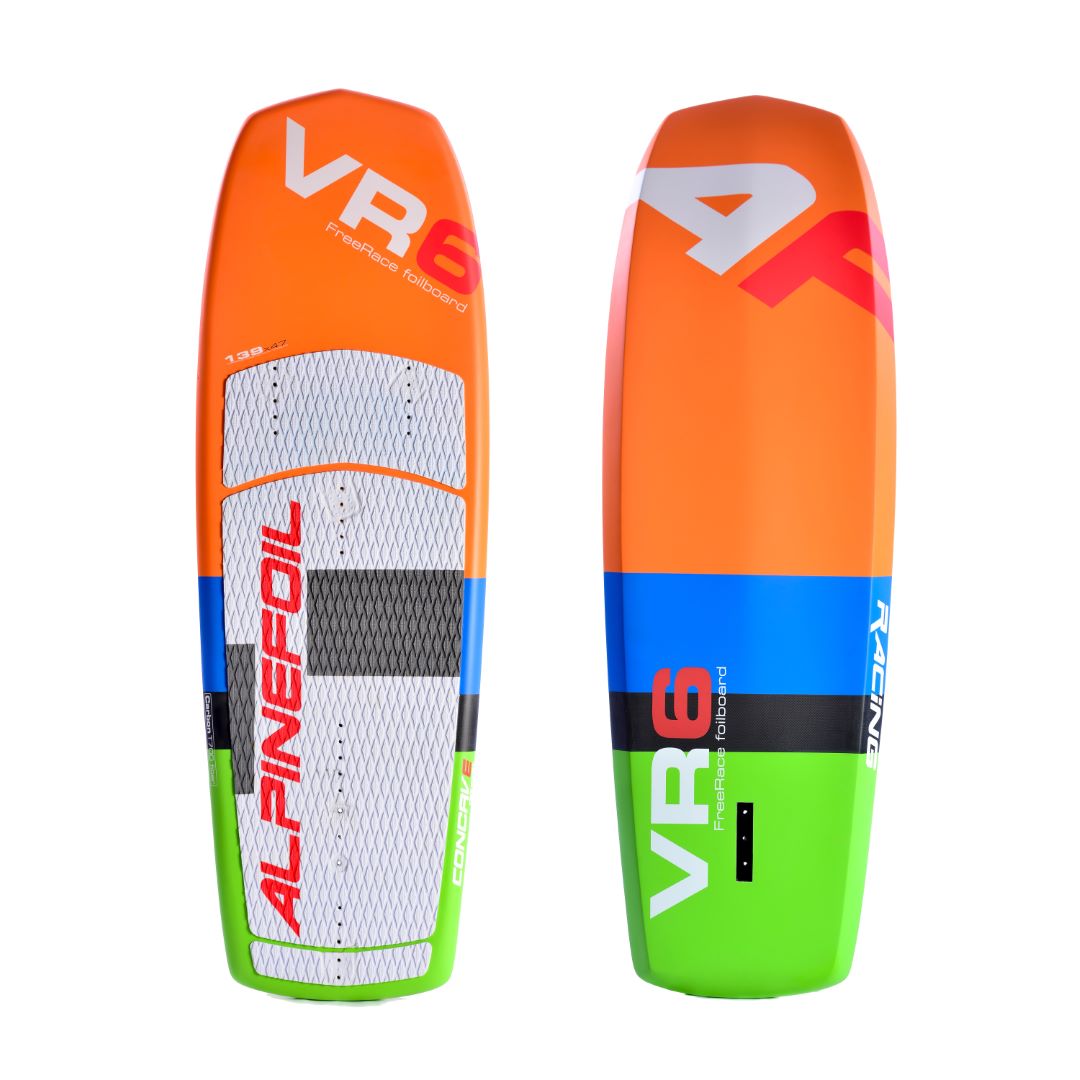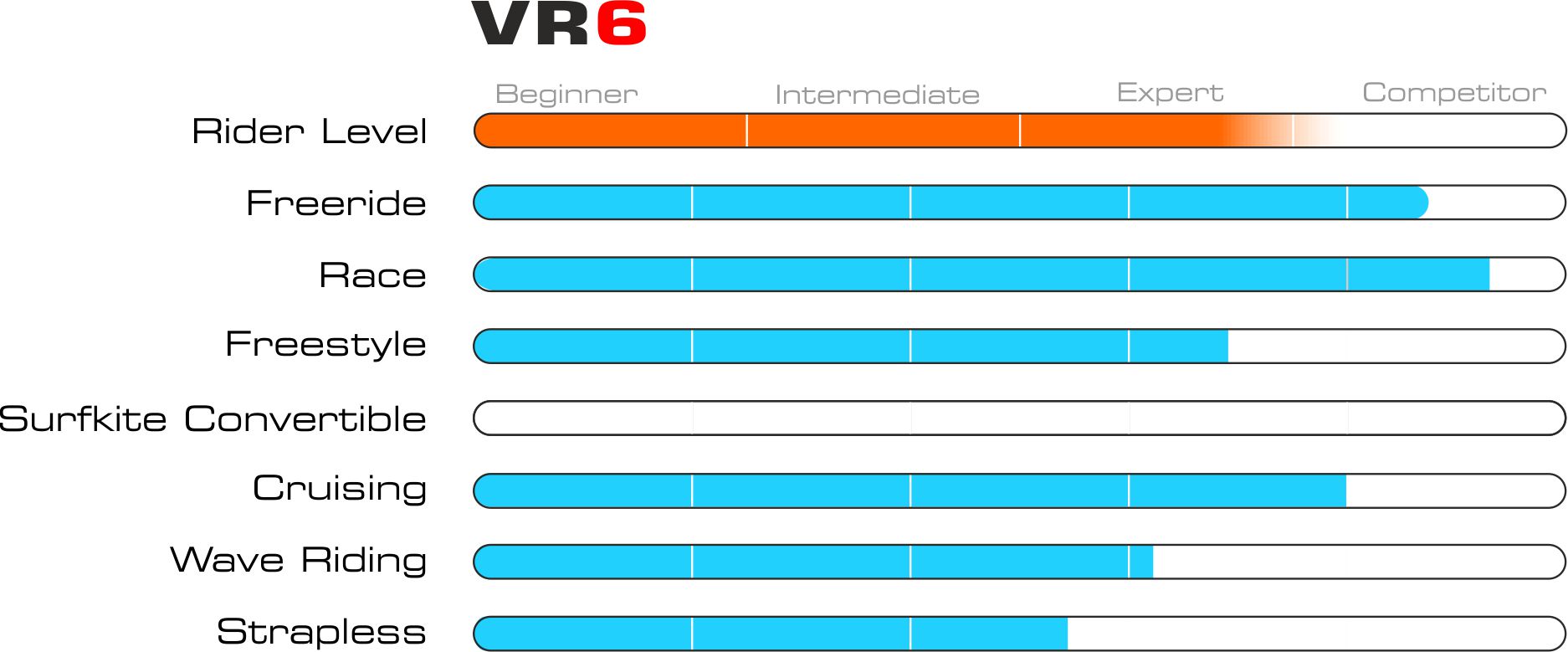 Kitefoil board VR6, 4.5 x 18.5 - 26 liters 
You want to invest in sustainability, start, and progress with a performance lens. But you don't want to forget about Freeride sessions and tolerance, you are on the right track...

Its initial Freerace program is extremely extensive, this VR6 will accompany you throughout your progress and until your first competitions. Behind its race allure hides a strong tolerance for navigations under the sign of comfort. Performance is driven by ease and this VR6 forgives everything.

To buy your Alpinefoil VR6 kitefoil board, visit the online shop
The characteristics
- Powerful acceleration amplified by a distribution of volumes on the rear and front, giving it an exceptional buoyancy capability, allowing it to start easily and without sinking, even for large dimensions

- Lower concave bridge to facilitate freerace supports, maintaining the comfort of freeride use

- Inverted rails reworked for ease of lodging

- Narrower outline and volume optimization for greater compactness
- Progressive scoop and smoother curvature, for better handling on water and during touching

- Double concave hull to prevent suction. This results in fast acceleration, a smooth take-off and allows you to remain stable while maintaining your speed during touchdowns

- Reinforced fields carbon, airex, robust paint, VR6 is designed to last

- Large deck pad for excellent comfort
How our boards are built
- Stringer made of wood, running along the entire length and lined with carbon fibre at the housing.

- Closed cell EPS core machined and successively dressed:
of fiber glass
of carbon T700, arranged according to 3 axes with recovery of forces on the case to face the stresses of the foil
a bio-polymer bamboo-epoxy fiber composite applied in the longitudinal direction of the board, which gives it a resiliency property.This technology makes it possible to accept session-after-session efforts without changing behaviour and thus avoids so-called "fatigue" breaks.
a high-quality epoxy resin used in the production of all these composites. This resin was chosen over another because its solvent-free base is not environmentally aggressive.Moreover, by its nature, it is not subject to the phenomenon of osmosis.
Alpinefoil kitefoil Webserie #1

- On deck, a layer of Airex, a closed cell material characterized by extreme tolerance to damage, strengthens the foot support area.

- Its fields were reinforced with Airex and then covered with carbon.

- Its polyester finish and two-component paint are covered with UV-resistant polyurethane varnish.

- Its F-Box carbon case with automatic catch-up of the game is integrated into the foil board during its construction and allows a solid connection between the deck and the hull.Carbon fibre reinforcements distribute the forces over a wide area thus increasing rigidity and response and improving the pilot/foil bond. Its perfect underrun results in an absence of drag and therefore better sliding performance on the water.

- Its wide and comfortable pads allow precise contact with the board.

- Its 32 inserts for Alpinefoil footstraps placed at the front and rear allow multiple combinations of foot placement. 1, 2, or 3 footstraps, placed straight or in V, loose or adjusted as close to the feet, will personalize the ergonomics of this foilboard according to the level, the type of practice, the conditions of navigation, the morphology and preferences of the pilot. The positioning range of the footstrap is 15 cm at the front and 10 cm at the back.


To buy your Alpinefoil VR6 kitefoil board, visit the online shop
Which AlpineFoil foilboard to buy ? How to choose your board according to your level : beginner, confirmed, expert ? How much is it ? New or secondhand ? Contact us here.
You need to be connected to post a comment