Kitefoil SX-1 convertible surfkite 4.9 x 18.1 - 23 Liters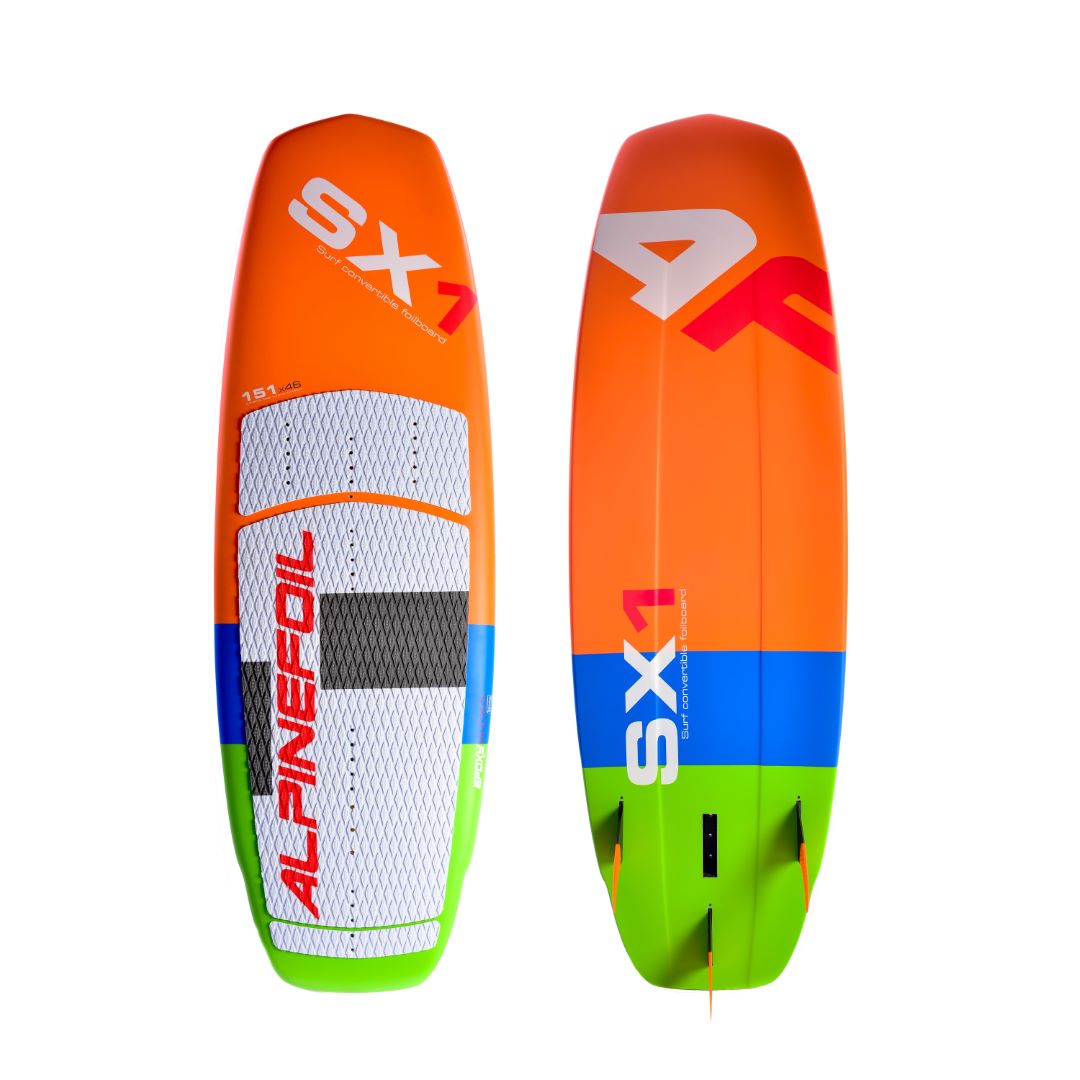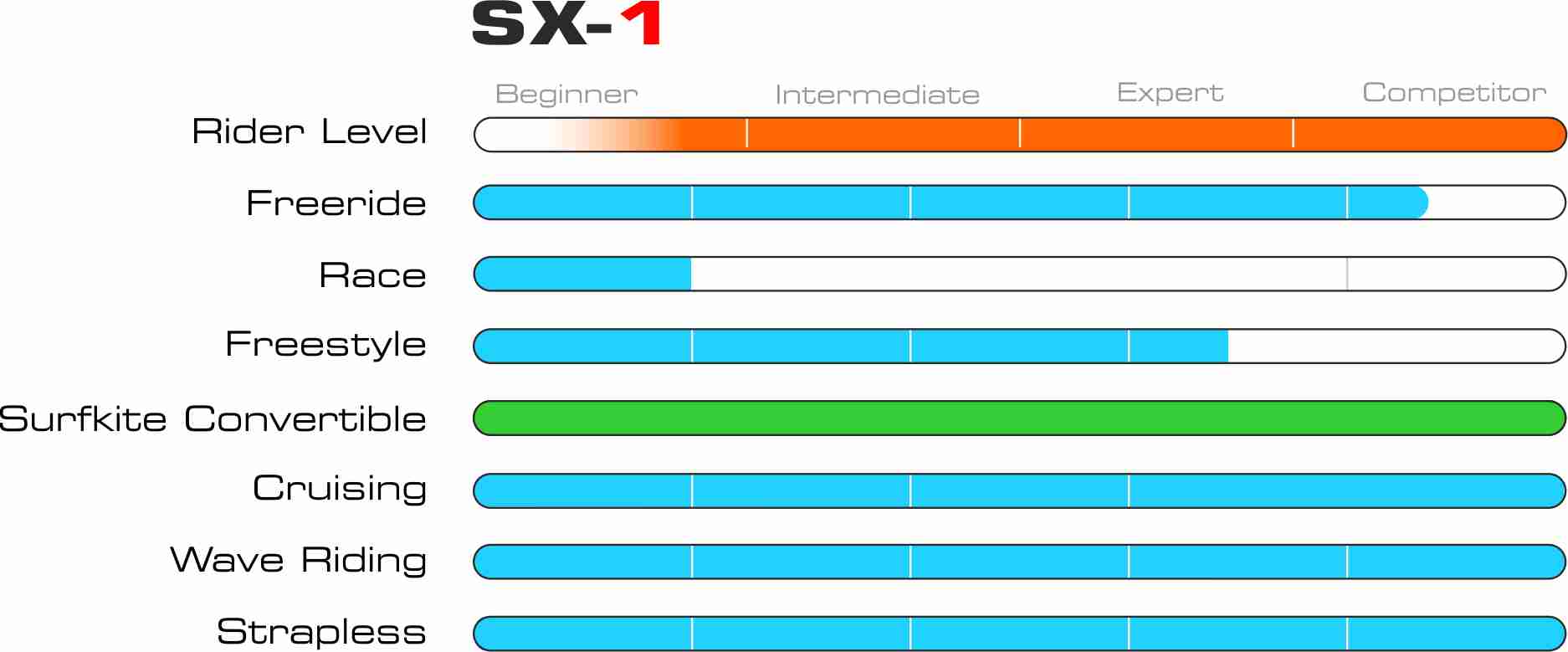 Kitefoil board SX-1 4.9 x 18.1 - 23 Liters
The SX-1 is the convertible Foilboard Surfkite from the Alpinefoil range. It is aimed at riders of all levels, from beginner to expert looking for a mixed practice surfkite/kitefoil. . This foil board has been specially designed for surfkite use and optimized for more accessibility and better start low beach.

When using Kitefoil you will find a very tense board and a sufficient volume to discover the kitefoil and to practice it in freeride mainly.The technologies from our 100% kitefoil board have been introduced on this model and adjusted to optimize the behaviour in surfkite. The SX-1 is particularly comfortable in small to medium waves.

A central rail on the hull appears with well-defined and fine fields to ensure excellent surfing behaviour. The hook is excellent and the driving dynamic in turns. Its stretched lines offer speed in all wind situations and allow to pass soft areas easily.

To buy your Alpinefoil SX-1 kitefoil board, visit the online shop
The characteristics
Quick start on schedule
Central chanel along full length for better grip
Progressive spatula for direct accelerations
Housing caps for surfkite use
Convex bridge for greater manoeuvrability and a light rail passage
Outline narrow enough to favour corner shots in kitefoil use
How our boards are built
Its closed-cell EPS core is digitally machined and successively clad:

- Fiber glass, a traditional material used in the manufacture of boards;
- Of reinforcment carbon T700, arranged in the following 3 axes with recovery of forces on the housing to cope with the stresses of the foil

- a sandwich bio-polymer bamboo-fibre-epoxy composite + PVC Airex applied longitudinally to the board, which provides a foilboard resilience property.This technology allows the board to accept session after session efforts without changing behaviour and thus avoid so-called "fatigue" breaks.

- a high-quality epoxy resin used in the manufacture of all these composites. This resin was chosen over another because its solvent-free base is not environmentally aggressive. Moreover, by its nature, it is not subject to the phenomenon of osmosis.

Its F-Box carbon housing with automatic game catch-up is integrated into the foil board during its construction and allows a solid connection between the deck and the hull.Carbon fibre reinforcements distribute the forces over a wide area thus increasing rigidity and response and improving the pilot/foil bond. Its perfect underrun results in an absence of drag and therefore a better glide performance.
Its fields were reinforced with Airex and then covered with fiberglass reinforcment.

Its wide and comfortable pads allow precise contact with the board.

Its polyester finish and bi-component paint are covered with UV-resistant mate polyurethane varnish.

On deck, a layer of Airex, a closed-cell material characterized by extreme tolerance to damage, strengthens the foot support area.

Its inserts for Alpinefoil footstraps placed at the front and rear allow multiple combinations of foot placement. One, two, or three footstraps, placed straight or in V, loose or adjusted as close as possible to the feet, will personalize the ergonomics of this foilboard according to the level, the type of practice, the conditions of navigation, the morphology and preferences of the pilot. The positioning range of the footstrap is 10 cm at the front and 10 cm at the back.

We have chosen modern, high-tech materials over other, more classic and less expensive ones to design a high-quality, high-performance and original foilboard that is as well suited to your foil progression.

To buy your Alpinefoil SX-1 kitefoil board, visit the online shop
Which AlpineFoil foilboard to buy ? How to choose your board according to your level : beginner, confirmed, expert ? How much is it ? New or secondhand ? Contact us here.
You need to be connected to post a comment