The members of Team Alpinefoil
Team Alpinefoil well represented on energy kitesurf in Almanarre, which took place in early October 2016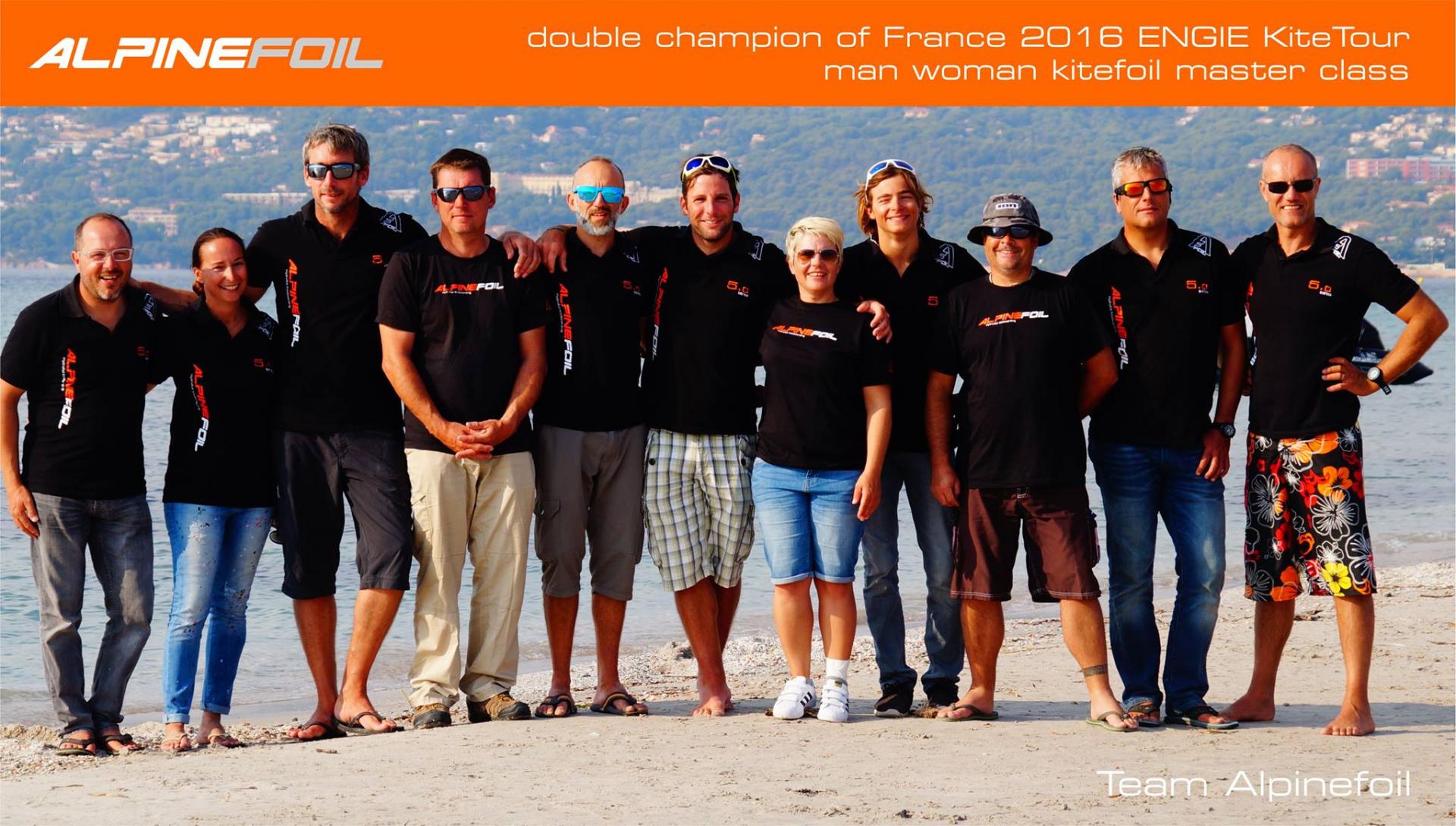 CHABOUD Hugo 17 years - Pontcharra High School (September 2014)
Hugo discovers kitesurfing through his father, he really began kiting at the age of 12. With relative ease, Hugo learns to each output and begins to have a certain level in freestyle kitesurfing and snowkiting in particular. He learns much faster than adults and began to make his first competitions in 2014. He discovered kitefoil simply by seeing his father foils tinker in the garage for the past 4.5 years. He practices kitefoil since April 2014 and is already beginning to pass perched Jibes.
The kitefoil Hugo is some thing "Magic", this really was like flying and gliding is exceptional, since there is almost no drag and the foil is very quiet. "
In an average month, he practices six sessions mainly on the lakes.
Its evolution kitefoil: Keep improving and has wandering and make otherwise I think the same competitions that my father.
Its points to improve: Get off the wind and quickly improve its air transfers (Air jibe)
For Hugo, the strong points of the team are Alpinefoil No fuss, we are not there to do performances in competition but just to have fun together.
Its Quiver: Ozone Chrono 11m and 9m, ozone edge 8 and 6m. If not for the foil, I wing sport that I love and the Rx-v5 (Board) which allows calmly and rider perform freestyle with ease.
His passions: I currently practice climbing competition, otherwise I do a lot of skate and I realized recently Snowkite competitions and Kitefoil race.
ISABELLO Jean-Pascal - French Team
Isabello Jean-Pascal (jeepee: 43 years) - Sales Executive
JEEPEE discovered kiteboarding in 2003 at Lake monteynard, it is quite underpad on this lake since it practice windsurfing during the summer season. His notions glide allows him to quickly learn the kite. He discovered kitefoil through friends practicing on the lake when the wind desperately waiting to go on special twin tip "lightwind".
He discovered kitefoil in 2013. Rediscovered water bodies or he sailed without worrying continuously upwind. This has opened a new dimension in navigation with a feeling phenomenal "feeling high" speed, so kitefoil becomes "essential" to JEEPEE.
Its evolution kitefoil : Follow news about the Foil is for me the logical evolution of kitesurfing. Push the navigation Kitefoil its utmost to further evolve this new slides. Try (and spend) figures more "developed" jump to open the Kitefoil the world of "Freestyle" in "lightwind"
Perfecting his points : Navigating essentially lake and lightwind, and the experience of the world championship Kitefoil La Ciotat, he'll have to navigate in "muscular" more conditions and a water well trained ...
For JEEPEE the highlights of the Team Alpinefoil are : First of all, the designer / developer Alpinefoil (Damien Chaboud) is also the N°1 rider Team Alpinefoil. That it can be considered during the rounds of the championship as "amateur" against the "pros" of the discipline (as the bulk of his days, he goes in his workshop developing and producing out of its Foils) it happens to be placed in the top 10. His periods of navigation used it to test and continually improve its products. It is also surrounded by riders of different experience levels and which also allows him to have other points of view.
His Quiver: Wings: Gaastra Jekyll 14m/12m/10.5m, Toxic 8m Gaastra Gaastra Hatch 7m, F-One Revolt 5m.
Foil Alpinefoil 4.5 (standard) / Board Alpinefoil 5.0
His passions: Snowkite, Windsurf, Ski Touring, Rugby, ATV, Motorcycle Trials, Jujitshu.
BLACHON Jean-François - French Team
BLACHON Jean-François (Jeff : 45 years) - Carpenter
Jeff discovered kitesurfing in the 2000s, fan since childhood by sports (surfing, skiing ...), he knew what improve in the area of the kite. Jeff is a pilot end, he discovered kitefoil through his friends who sailed together on the lake Monteynard. Its beginnings in foil in 2009 enabled him to acquire a high level, speed freak he tries every day to win again and again with a few knots of wind breeze all.
According to Jeff, the foil is a new sensation of gliding effortlessly and quietly finesse with a rise in incredible wind, as he puts it, the Foil is a "butchery". In an average month, he practiced eight sessions mainly on Lake Monteynard.
Its evolution kitefoil : 2 or 3 competitions and try to adjust the foil such as Damien CHABOUD
Its points to improve : The start, the straight line, turn, reverse and everything thoroughly ..... (change foot perching)
For Jeff, the highlights of the Team Alpinefoil are : passion of the sport, is pleased to support and encourage a friend to continue its development on its Alpinefoil (and aperitif)
His Quiver: Kite Aeros 5.5 / 7/9/11/13 - Alpinefoil 4.5 with wing speed
His passions: Skiing, Rugby and Windsurfing
FACCHINETTI Audrey - Business Professor
We welcome with great pleasure Audrey Team in France,
With her man, fanatical also gliding, they share the same passion for 8 years now and discover all the new pure gliding and really adapted to their region.
Audrey discovers kitefoil thanks to Team Alpinefoil on Lake monteynard, it is now three months that Audrey sailing on his magic carpet with the Access 5.0 with the wing XLP. With this configuration, Audrey found its landmarks and was able to enjoy this new slides. Audrey is a hard worker because she never gave up on his debut in foil and always kept a smile.
Audrey progress at their own pace without burning the steps because she finds it very accessible and scalable foil,
For Audrey, the Alpinefoil team allows him to progress and help in navigation
Strengths of the Team Alpinefoil are: Openness and friendliness
Its Quiver: Cabrinha Chaos 07/09/11 - Foil: Alpinefoil Access 5.0 and Board RX-V5 Alpinefoil
WOJNACKI Nicolas - French Team
WOJNACKI Nicolas (Niko: 45 years) - Fire Firefighter
Niko learns kite in the 2000s, sports fan and keen to dive he knows particularly water Alpine lake he discovered windsurfing. Thanks to Marc Benoit watched it sail when there was not enough wind to exit twintip he discovered the foil, Niko speaks of the "excellence" of the foil. You can navigate in very little wind and it was immediately a huge pleasure. The foil allows up and down the unthinkable wind. It does not feel choppy and goes very quickly. By against falls hurt because it falls from 1 cm to 1 m tall : the head and thorax often tap. In an average month, he practiced 12 sessions around.
Its evolution kitefoil : Continue to grow. Level gear I'm pretty well with 5 wing : 5/7/9/11/14 m² including two wings race. To other races because the atmosphere is good and growing.
Perfecting his points : First is speed that I want to progress and I must bump maneuvers, but it is secondary!
Niko, the highlights of the Team Alpinefoil are: Usability! We not take the head! a bunch of friends who enjoy! We want especially to spend good times!
His Quiver : Slingshot Rally 14 m² 2014/11 m² Zeeko Pursuit 2014 / RRD Addiction 9 m² 2014 / Slingshot Rally 2013 7 m² / 5 m² RRD Religion 2014
His passions: No competition. Many Windsurfing - ski - mountain bike
Pascal BOULGAKOFF - 59 ans - kite photographer
International ski racer was young and skiing long distances in adult, twelve years of delta / paragliding, snowboarding ten years as a photographer to cover all the mountains of the world, I start kiting in 2004.

Rather specialized in snowkiting, I also do kite surfing in summer, almost exclusively on the Lake Monteynard.

It was in April 2015 that I started the foil on the invitation of Damien lent me the equipment in the hope that I participate in breeds like I do snowkiting.

Immediately it was love at first sight, the mix between gliding speed, finesse required steering and extremely gentle sensations and movement forces have no equivalent in outdoor activities. The fun in the downwind runs at full speed is indescribable.
The foil is clearly the ultimate winter sport to date.
This softness of support combined with an extremely demanding control technology is a blessing for an athlete who is approaching 60 years. An inexhaustible pleasure in perspective, maintaining a high sporting activity and all without any physical trauma. Total happiness.

As for kitesurfing since 2004, I am the foil an average of five days a week.
I like being able kiter in 5 knds through my Alpinefoil and unlike many, I even care if there are 35 knds and 1.50m chop because I find it fascinating challenge.

I am the crossings of the lake foil, to jibe perched in the front and back, I need to learn now changes perched feet and tacks. I'm not attracted to the jumps. I also have to learn to make a Race course, falling less than ten times ...

For me, the Team Alpinefoil is an inexhaustible source of learning through experience that each of its runners communicates me with generosity. It is also a motivating force when I see them evolve and I'm trying to be like them. For this I must gather my courage face wind conditions / hard lake. Without the team, I would not be able to grow as well. They also taught me to use sails smaller and smaller and this is another great highlight of the foil.

My quiver is: 4.5 Alpinefoil wing Standard XLP / Board Alpinefoil RX-V5 and HQ Ignition sails 12m and 7m.

My passions: drawing, snowkiting and foil, three to égaltité perfect.
MICHEL Didier - French Team
MICHEL Didier (Didier: 53 years) - Teacher
Didier comes from Corsica, a beautiful area where he practices kitefoil for 2 years on the beautiful blue. His attraction for kitesurfing goes back over 15 years, Didier knows the spots in Corsica and often surfs her favorite spots.
Didier has had the kitefoil by a friend (Gaby Pucci) who already practiced and Damien CHABOUD he practiced kitefoil for 2 years. He rediscovered the kite through the foil, performance in light air, freedom on the water and the softness of the nav you love him this practice. On average per month it practical sessions around 6/8
Its evolution kitefoil: Roll on the float RX V6 / try a smaller front wing
Its points to improve: The mobility of the foil and maneuvers
Didier, the strengths of Team Alpinefoil are: The team is not focused only on performance and enhances usability
Its Quiver: Carbon + 4.5 ALPINEFOIL Wing XLP + HELD Race / wings Fone Bandit 6: 8m and 11m
His passions: Windsurfing / bike / ski
RICHARD Francis - French Team
RICHARD Francis (Francis: 52) - Head of Consultancy
Francis is the mascot of the group, tireless francis never stops! At each exit, he tries again and again to beat his record number of kilometers traveled on the lake, no one comes close to him on this point. He started kiteboarding in 2001 and discovered in 2011 by Marc kitefoil and Benoit (Association One kite), Denis who were the first to take the step.
The kitefoil provides slides and incomparable typical race course, in an average month, francis practice 10 sessions mainly on Lake Monteynard.
Its evolution kitefoil : Participate friendly Foil and evolve my foil with a wing race
Perfecting his points : Transfers edge perched if possible
For Francis, the highlights of the Team Alpinefoil are : friendliness and good humor
His Quiver : 6m 8m & 10m bandit RPM - RALLY 12m - 14m PRODIGY and Alpine Foil 4.4 mounted on Surf Brunotti 5 '(150x43)
His passions : Snowkite, Skiing, snowboarding, cycling, mountain biking, climbing, windsurfing
DAUBAGNA Vincent - French Team
DAUBAGNA Vincent - 36 - Vince (Airline Pilot)
Vincent discovered kiteboarding there is 8 years old and started surfing strapless for 4 years. He sees change foils water for some years already, when the practice of the foil was still in its infancy. Immediately won over by the concept, but 100% committed to his research of distant waves kite surfing, it expects to find the time and led to a foil if finally spend. The Alpinefoil 4.5 was for him clicked.
Vincent makes his first navigation foil there eight months in early 2014. He considers the kitefoil as a product "Hovering" the flying carpet is under our feet - Coming Aviation (glider, light aircraft, aerobatics airliner), he appreciates the approach of Damien has focused its energy and know-how to develop a system based on the flying qualities of the whole glider foil. Allaire its surface elongation and profile include the ability to move at low speed, which is valuable for transitions and comfortable for beginners. We often say in our environment that "what is beautiful flier." Alpinefoil confirms ...
In an average month, 10 Vincent practice sessions
Its evolution kitefoil: I want to continue my progress in terms of slides, transitions, and speed. The competition will naturally one day maybe?
At the team, bring my experience as a pilot and kiter to change the Alpinefoil range. Traveling with my foil and explore new horizons.
Perfecting his points: Getting in foil to my comfort level strapless surfing: slides, curves, transfers, wave ...
For Vincent, the highlights of the Team Alpinefoil are: A team of riders for surfers and theft. Starting with Damien, himself practicing at a high level and spending hours on the water to test its products.
His Quiver: I am equipped with F One (Sail Free) for many years. Quiver 7m and 9m Bandit (with 5m extension breakfast time).
His passions: Light Aviation, Climbing, Judo, Surfing, Squash, Trail, Snowboarding, Snowkiting.
BILLET Benoit - French Team
BILLET Benoit (Benoit: 39) - Project Manager
Former funboarder, Benoit discovered kite on water bodies in the early 2000s, it will not in 2005 by bringing a proto wing TARIFA he quickly acquired a box for winter riding spots Vosges and doubs high. He discovered the potential of the foil in 2011, arriving in Grenoble and on Lake Monteynard
Benoit will make its first session in the beauduc 22/06/2013 Carafino with the assoc Onekite "unforgettable weekend"!
Benoit considers kitefoil as a product "Magic" of pure freedom, no need to worry about caper, open the foil all walks Monteynard narrow gorges, long the most unthinkable distances, chop no longer exists, the sensation of sliding is huge, the rate of change is exhilarating, all without sound, hard board on other media.
In an average month, he practices 6-8 sessions
Its evolution kitefoil: Go with the wing of race and cross 35nds, pass other maneuvers (360 °, transfers ...) - Go to the competitions and make a great crossing, surfing the big waves ...
Perfecting his points: Keep the speed over longer distances, transfers, ...
For Benoit, the highlights of the Team are Alpinefoil: The atmosphere and the humility of the whole team, with special mention to Damien
His Quiver: Ozone Reo 5m² 2014/2012 Reo 8m / Ozone Edge 11m 2013 - 4.5 Wing Alpinefoil standard XLP / Board Alpinefoil AFB 50
His passions: windsurfing, parasailing
DERONZIER Emmanuel - French Team
Deronzier Emmanuel (Windmanu: 45) - Engineer in microelectronics
Since its inception in kite with wings Wipika (2 lines) in Prepress kite, Manu navigates the likings of the wind, it is undoubtedly a kite surfer and warns a know of mountain lakes. He practiced kitefoil for 1 year and a half with the help of Damien CHABOUD and Marc BENOIT (addicts foil from the beginning)
Manu considers kitefoil as a "fantastic" product that allows a huge upwind, exeptionnelle a low range and new sensations. In an average month, he practices six sessions mainly on alpine lakes.
Its evolution kitefoil : freestyle foil (hight Jump Backloop) and race Race
Perfecting his points : Transitions and downwind in strong wind with a sea smashed
Manu, the highlights of the Team Alpinefoil are : friendliness and solidarity
His Quiver : Gaastra kite - toxic (14m), pure (11m) and Jekyll (8m and 19m) / Foil: Alpinefoil 4.5 and Proto Board Alpinefoil
His passions : Speedriding - Diving - Tennis - Biking - Windsurf .... and plenty of other
DWELLE Bowen - International Team
DWELLE Bowen (45 years old) -– Founder and CEO of 8 Meter Media
Bowen started windsurfing when he was about 10 years old, on his father's original Windsurfer. In 2007, he took a few lessons at Waddell Creek, the famous wave spot south of San Francisco. The following year he discovered strapless riding on a trip to Jericocoara (Brazil) and has been an avid kiter since then.
Bowen discovered kitefoil with some local riders including Johnny Heineken, Erika Heineken, Bryan Lake, Chip Wasson and Stefanus Viljoen who started to ride hydrofoils in San Francisco in early 2013. He borrowed an old foilboard from his friend Chip for a trip to the Dominican Republic and he bought his first foil when he returned home to San Francisco.
Asked about the foiling expereince, Bowen says
"Riding a foilboard is totally different than other styles of kitesurfing. On a foil you fly over the water with small movements and delicate balance. It is a very refined physical sensation, with less brute force. There is no water spraying, almost no sound, and very little impact from the water or waves. Once you learn to control the foil, you fly fast and smooth over the water with very little effort – an incredible feeling!
I have ridden most of the foils on the market and Alpinefoil is what I chose for its beautiful design, top-quality engineering, unprecedented stability, speed and versatility. Damien is a true innovator and entrepreneur, and I'm proud to be a member of the team."
Bowen's quiver: 4/5/7/9m Boardriding Maui Cloud kites for foiling and also for kitesurfing in waves – he's also a BRM team rider. His foil setup is an Alpinefoil RX-V6 board and the new Sport wing on the full-carbon Alpinefoil 4.5 model.
Bowen's other passions: Skateboarding, snowboarding, sailing, windsurfing, climbing, mountaineering, cycling, hiking, trail running, kitesurfing and all other outdoor sports, starting with when my parents took me to YOSEMITE at the age of 2 months.
MANDIER Romain - French Team
MANDIER Romain (Romkite73 : 25 years) - Engineer Draftsman
Its beginnings in snowkiting in its native Vercors enabled him to discover other practices of kite including the kitefoil. Sailing enthusiast since childhood, Romain loves to share his free time and sessions. 4 years practicing kitesurfing, Romain has evolved and learn by itself the finesse of the sport, participating more in competitions, he gradually finds its place in the Team AlpineFoil.
It is also very involved in the organization of events (organization of friendly on different spots Rhône Alpes)
Roman Kitefoil discovered in September 2012 by Damien CHABOUD, it considers that the weapon is kitefoil anti becalmed on Alpine lakes (We sail 10 times on Lake Bourget in foil when Twin tip per month), on average Romain practice 10/12 sessions per month
Its evolution kitefoil: Change front wing on my foil - Place on an intermediate wing
Its points to improve: The descent wind swell formed
Romain, the highlights of the Team are Alpinefoil: Good atmosphere - friendly and mutual
His Quiver: Wing kite Aeros Explorer 7 m² - Aeros Cruiser 11m ² - 10m ² Rally / Ironing RX + Alpine V6 4.5 Foil
His passions: Snowkiting - Rugby - Tennis - Ski
CHALOT Fleur - Air Operations Officer at Airbus Helicopters
We welcome with great pleasure fleur in the Team France Alpinefoil,
Through a friend of the kite club DMC Carteau Fleur discovers kitefoil and the pleasure of sailing with so little constraint.
It's been almost three years that Fleur sailing on his magic carpet now equipped with the Ultimate 5.0 with Race wing.
With this new configuration, Fleur grows in confidence and can even get the place coveted Champion of France of speed crossing master class.
Fleur continues to grow and feel a real need to sail with his friends by making long endless walks on inland lakes and Mediterranean.
Competitor in the soul from these skydiving beginnings a few years ago, Fleur wants to continue to progress in perfecting the maneuvers, the cape and speed to still achieve new performance,
For Fleur, the strengths of the team are Alpinefoil team spirit of the whole group, a welded and united group
Its Quiver: Ozone Enduro 4/6/8 / 10- Foil: 5.0 Alpinefoil Board and ultimate RX-V6S Alpinefoil

You need to be connected to post a comment