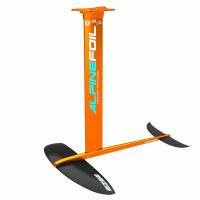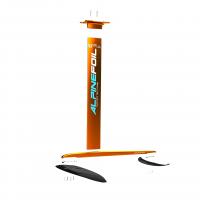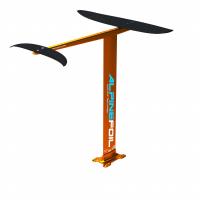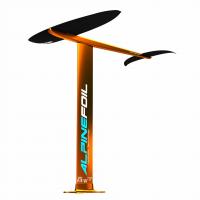 Kitefoil EZEE 1200
Kitefoil AlpineFoil Ezee - Wing Wave 1200 cm2 BSC + carbon stabilizer - 4-hole plate.
Beginner to intermediate level
Limited quantities


du lundi au jeudi 8h-12h 14h-19h - Vendredi 8h-12h


KITEFOIL ALUMINIUM CARBON KITE HYDRO HYDROFOIL FOIL ALPINEFOIL
Kitefoil AlpineFoil EZEE :

Level : beginner to advanced riders

This year, AlpineFoil presents a brand new foil accessible to kitesurfers who wish to start the foil at low cost. With its Made in France manufacturing, the Ezee promises to be the best quality / price kite foil of the season.
Indeed, even if the foil has been generally simplified in its manufacture, it still has technical characteristics which ensure its proper functioning. We therefore kept the full carbon wings, the mast and fuselage machining in a single aluminum block for maximum lightness and rigidity.
The Ezee is the perfect foil to learn and progress on a small budget: very evolutive, it is available with a 60 or 80 cm mast and is compatible with all the wings of the range. You will therefore have in your hands a perfectly optimized toy, always with AlpineFoil quality.
Which AlpineFoil foil to buy ? How to choose your foil according to your level : beginner, confirmed, expert ? How much is it ? New or secondhand ? Contact us here.
Carbon wing 1200 basic 1200 cm²
Aluminium fuselage machined 6061 T6 Aluminium aviation "Nose Less"
Aluminium mast 80 or 60 cm
4 holes plate (165x90) - compatible board : AlpineFoil VR3 / North / Slingshot / F-One and all boards with US rails
This kitefoil "noseless", is for all the riders, from beginners to advanced who is looking for an easy foil with very high quality and an exceptionnal evolutivity.

This package includes : Wing Lift 1200 BSC + carbon stabilizer basic finish, fuselage and mast in Aviation aluminum 6061 T6 CNC 5 axes machined, galvanic isolators GIS, A4 stainless steel mounting screws, 4-hole plate.
You need to be connected to post a comment