Kitefoil AlpineFoil ORIGIN Wave 1200
Price 999,17 Euros exVAT
level : beginner to advanced riders
Download the review from Kiteboarder of the new kitefoil Alpinefoil Origin + board VR3 - Alpinefoil obtain the best evalution on his kitefoil


Test review alpinefoil kitefoil origin vr3 magazine kite boarder n 37 mars mai 2019 (419.16 Ko)
The bet of AlpineFoil with this new kitefoil, is to offer a foil with the highest quality possible for people who have a tiny budget but do not want to to make concession on the materials, the perfromance and the quality. A made in France production and a unique Know-how from AlpineFoil, Hydrofoil manufacturer.
An ultra stable, reliable, progressive and accessible to every rider from every level, limitless in the upgradability.
A unique system against corrosion with a sacrificial anode (SACS)
Carbon wing WAVE 1200 cm²
Aluminium fuselage machined 6061 T6 Aluminium aviation "Nose Less"
Aluminium mast 95 / 80 / 60 or 40cm
4 holes plate (164x90) - compatible board : AlpineFoil VR3 / North / Slingshot / F-One and all boards with US rails
KFBox Compatible board Alpinefoil VR5 / VR6 / VR7 / CX-V6 / FS2 / F-One
Sacrificial anode SACS (Only brand in the world to have this system on an hydrofoil)
This kitefoil "noseless", is for all the riders, from beginners to advanced who is looking for an easy foil with very high quality and an exceptionnal evolutivity.

Which AlpineFoil foil to buy ? How to choose your foil according to your level : beginner, confirmed, expert ? How much is it ? New or secondhand ? Contact us here.
For more information, consult our dedicated Origin page here

This package includes : Carbon matte finish Wave 1200 STD wing + stabilizer, fuselage and mast of 95cm aluminum 6061 T6 aviation machined with 5-axis CNC, GIS galvanic isolators, A4 stainless steel mounting bolting, KF-Box housing.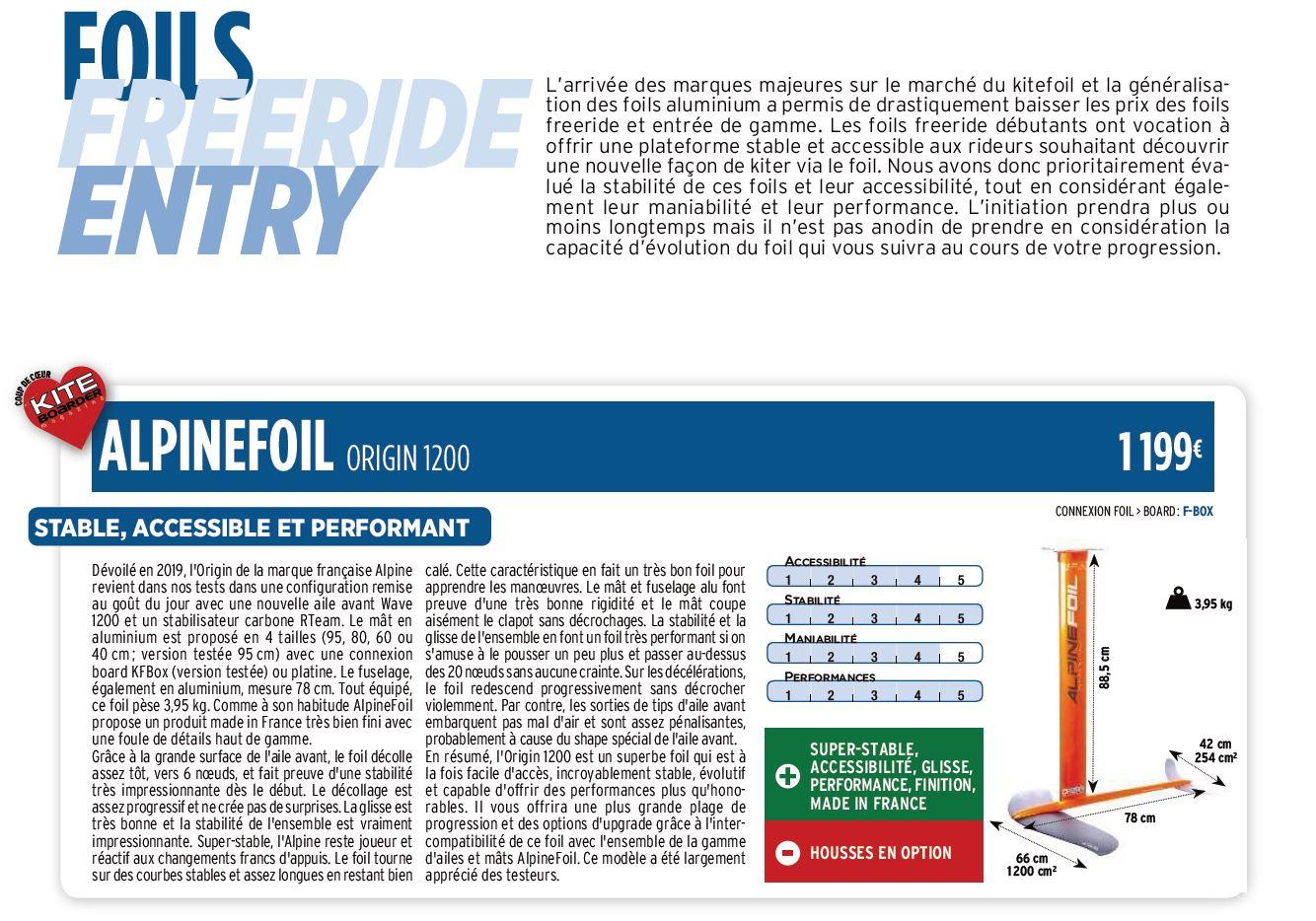 User Review :
"I arrived home last week to find my new AlpineFoil waiting for me.
What a fantastic product and I have to say that it is the best performing and best quality foil I have ever tried or seen.
And I have just bought your entry level foil(origin). I cannot wait to see your high end units!
Thank you for an amazing product! I will definitely be buying a lot more from you." - Jacques B.
You need to be connected to post a comment