Windfoil REVO
Windfoil AlpineFoil REVO Alu - Carbon Wing: Freeride 1000 + Carbon Stabilizer - Deep Tuttle Box, Power Box, Tuttle Box, 4 Holes Plate
All levels


du lundi au jeudi 8h-12h 14h-19h - Vendredi 8h-12h


LIGHT WIND ALUMINIUM CARBON FOIL HYDROFOIL HYDRO ALPINEFOIL TEST REVIEW FOILBOARD
MADE IN FRANCE
Windfoil AlpineFoil REVO ALUMINUM:

Beginner to confirmed level
Windfoil REVO Carbon Aluminum + Ailerons 1000 cm2 carbon BSC:
Front wings:
Carbon FREERIDE 1000 Freeride (1050 cm²) or
Carbon FREERIDE ULW1200 Freeride (1200 cm²) or
Carbon FREERIDE CRUISE 1450 Freeride (1450 cm²)
Windfoil Alpinefoi : which one to choose ?
Why choose the windfoil AlpineFoil REVO ALU ?

Price / Quality

Made in France



Wings and stabilizer 100% Carbon

Freeride wing 1000 cm2 (from the design of the ULW1200)

Long fuselage 90 cm CNC machined

High performance aluminum mast 87 cm

Compatible with all boards on the market
Deep Tuttle, Tuttle, Powerbox, platine

Performance in the light wind and the strong wind

Accessibility / ease of learning

jibe facility

8 wing angle adjustment shims

Compatibility of the masts
A1 Alu
A1 Carbon
A1 Sport
A1 Race

Compatibility with the wings:
CRUISE 1450
SURF 1800
ULW1200
ULW 900
REGATA 1100
REGATA 850
RACE 7000
RACE 580 M
Stabilisateur Race
AlpineFoil hits hard for this season by launching an accessible windfoil for all budgets.
This foil will allow all windsurfers to start the practice of the foil at a lower cost. The REVO will be the ideal wind foil for learning progression and why not performance. It has all the ingredients of a quality foil with an incredible scalability bonus. (Mast, Wing, Boxes) and French know-how
Its 87 cm mast and its 90 cm fuselage have been worked to obtain a foil with exceptional value for money. Made in France, we have worked on our production techniques and methods by betting to succeed in building a French foil with carbon wings that are less expensive than the Asian productions distributed by the big brands.
If you believe in Made In France and think that supporting French industry and crafts is essential! So trust us.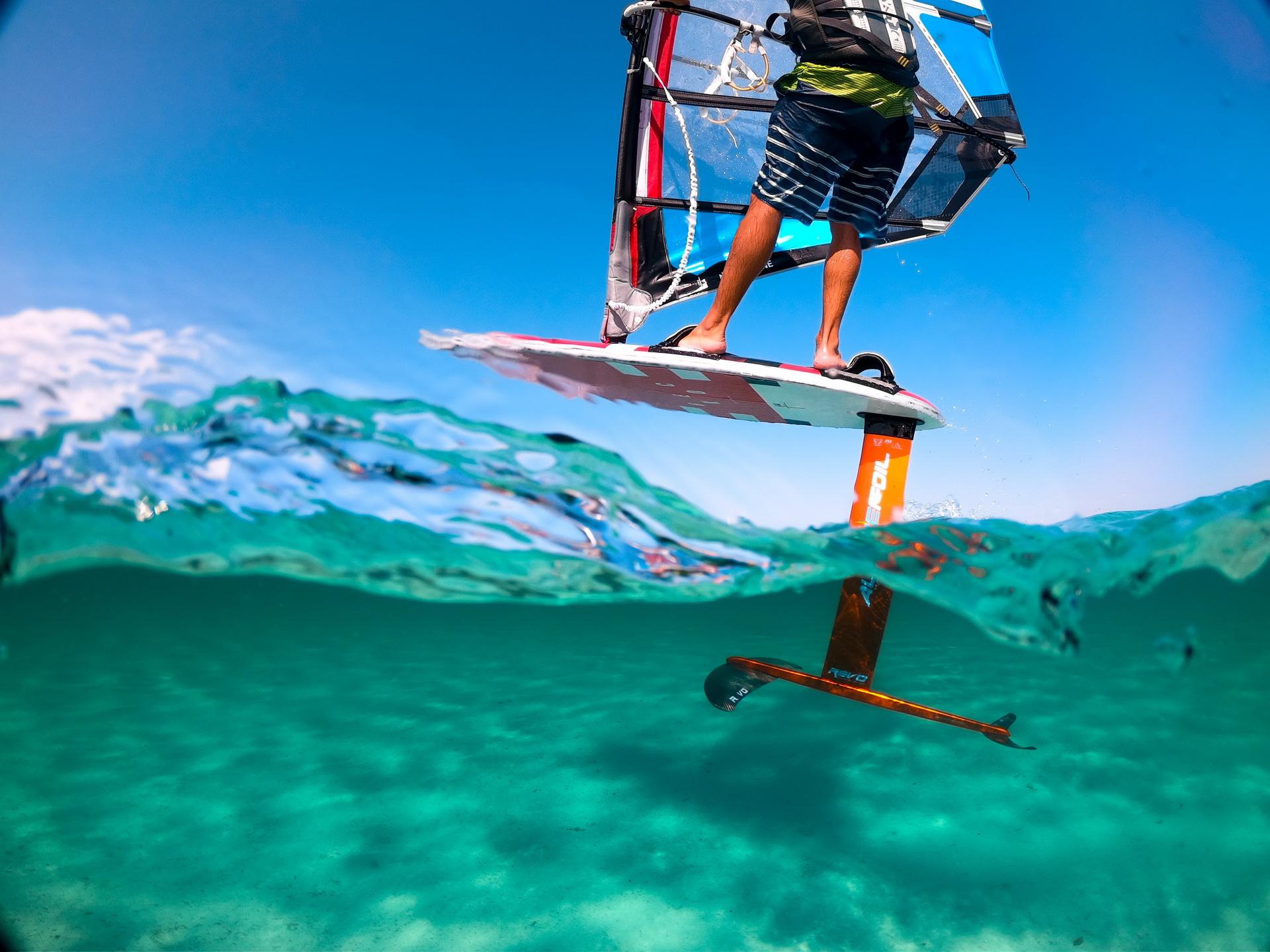 The Revo takes all the technical bases of Alpinefoil which made the success of the brand and the A1 range. For example, the mast is identical to the A1 Alu foil but shorter, the fuselage is always machined from a single block of aluminum to ensure maximum rigidity. The Revo has a fuselage with a long length of 90 cm essential for stability, the aluminum mat is ultra rigid with a recess common to all Alpinefoil windfoils: A1 Alu, A1 Carbon, A1 Sport, A1 Race. Alpinefoil made no impasse on the materials, the wings are 100% carbon with a simplified finish called BSC.
For this new foil Alpinefoil has designed a Freeride wing of 1000 cm2 which takes up the concepts of the ULW1200 wing (Best SELLER Windfoil because of its incredible versatility both in its accessibility, its super low range, its ease in the jibe and its behavior exceptional in strong winds). Alpinefoil carbon wings are ultra light and resistant thanks to Air technology. This technology is based on materials that can only be obtained in France and in Europe. This makes it exclusive to our brand. On certain foil wing as in SUP foil or surf with surfaces of 1800 cm2 the differences in weight are in kilos
The Revo, although delivered as standard with a Deep Tuttle box, it adapts to all boards on the market including freeride boards fitted with Tuttle Powerbox or 4-hole turntable. In addition, for non-specific foil boards, it is possible to purchase optional carbon recovery plates.
Two types of plate exist, the Carbon Deck Plate placed on the deck and or the hull plate (Hull Plate placed under the hull of the board. These plates make it possible to release the stresses on the case by taking up the efforts on the bridge and the For two years now, this system has been tested and works perfectly on non-windfoil boards.
This package includes: carbon ULW900 or Freeride 1000 wing + carbon stabilizer, BSC finish, 87 cm aluminium mast and aluminum 90 cm fuselage machined CNC 5-axis, machined 5-axis CNC aluminum DeepTuttle housing and plate, GIS wedges, stainless steel mounting hardware A4 Torx.

Which AlpineFoil foil to buy ? How to choose your foil according to your level : beginner, confirmed, expert ? How much is it ? New or secondhand ? Contact us here.
You need to be connected to post a comment