AlpineFoil : Kitefoil, Windfoil, SUP Foil. La nouvelle glisse du Kitesurf, du Windsurf et du SUP !
NOUVEAUTÉ ALPINEFOIL 2018 : L'ACCESS V3

Boutique AlpineFoil


Tarifs / Prix Alpinefoil 2018 : Liste des prix Kitefoil, Windfoil, Board et Accessoires (761.19 Ko)
Quel kitefoil acheter ? Comment choisir son foil en fonction de son niveau : débutant, confirmé, expert ? Quelle board choisir ? Combien ça coûte ? Neuf ou occasion ? Nous sommes là pour vous aider et vous conseiller: Contactez-nous ici.
L'entreprise AlpineFoil
Alpine Design est un bureau d'étude d'ingénierie mécanique français spécialisé dans la conception et la fabrication de kitefoils en carbone, aluminium et titane destinés à la pratique du kitesurf et du windsurf sur foil. Aujourd'hui, la société distribue ses produits dans plus de 65 pays !

AlpineFoil : le choix du design, de l'innovation et de la qualité made in french Alps !

Forte de 10 ans d'expérience dans la conception et dans la fabrication de kitefoils, de windfoils (windsurf sur foil) et de SUP (Stand Up Paddle), et grâce à une grande expertise et une connaissance approfondie de la mécanique, AlpineFoil développe minutieusement chaque article de sa gamme puis le soumet à toute une série de simulations et de tests qui démontrent son efficacité et sa résistance. En résultent notamment des foils d'une légèreté et d'une solidité incomparables.
AlpineFoil se démarque particulièrement de la production habituelle de foils par l'utilisation de matériaux de la meilleure qualité qui soit, ainsi que par une fabrication made in France. La gamme RTeam (Race Team) est le concentré de tout un savoir-faire artisanal français : chacun de ses produits est élaboré, travaillé et peaufiné à la main.
Innovation, Design et Performance sont les maîtres mots de l'entreprise. Soucieuse de toujours se perfectionner, la marque affine constamment ses designs et innove sans cesse au profit de la performance sportive : c'est pourquoi elle a développé et breveté ses propres procédés et technologies.
Enfin, AlpineFoil met un point d'honneur à satisfaire le client. Ainsi, elle propose des foils sécurisants et procurant des sensations inexprimables au meilleur rapport qualité / prix. L'entreprise dispose également d'un SAV qui prodiguera les réparations nécessaires à votre foil en cas de besoin.

Toujours dans l'optique de garantir la satisfaction du client, AlpineFoil a conçu des produits évolutifs : tout est adaptable, modifiable ou interchangeable. Grâce à cette évolutivité exceptionnelle, à sa gamme complète, et grâce à ses capacités et sa glisse optimales, la marque s'adresse à TOUS LES RIDERS, qu'ils soient débutants, confirmés, experts ou même compétiteurs ! Elle garantit à tous une progression et / ou une amélioration considérables. À ce titre, nous pouvons rappeler que la Team AlpineFoil a remporté la Coupe Engie Kite Tour 2017 après avoir été sacrée championne de France en 2016.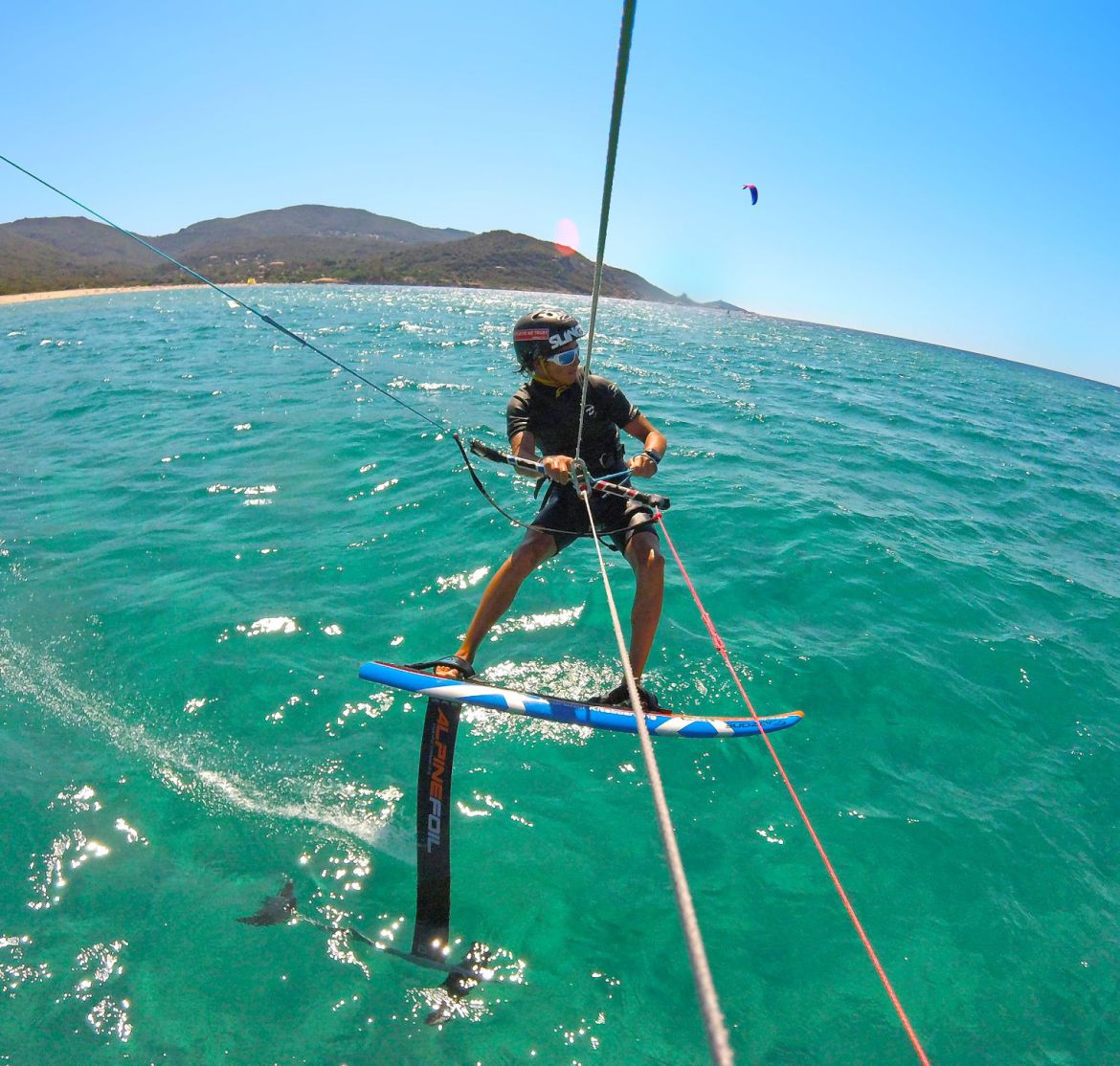 Qu'est-ce que le kitefoil ?


Après le funboard dans les années 80 et le kitesurf dans les années 2000, le kitefoil est en train de révolutionner la glisse. Cette jeune discipline, qui consiste à s'élever au dessus de l'eau à l'aide d'un foil placé sous la planche, procure de nouvelles sensations, extraordinaires et uniques, proches de celles ressenties en snowboard sur une fine poudreuse. La glisse pure, mêlée au silence parfait, donne l'impression de voler librement.

Le kitefoil permet de naviguer par des vents ultra légers (inférieurs à 5/6 noeuds), mais également par vent fort (30 noeuds). Il est donc accessible à tous : les débutants, les confirmés et les experts, et il est adapté à toutes les pratiques. Son incroyable remontée au vent laisse envisager tout le plan d'eau comme terrain de jeu. Aussi le kitefoil démultiplie le temps de pratique du kitesurf : près de 100% des déplacements sur le spot sont validés par une session.


Bonne navigation sur le site AlpineFoil !








Interview with Damien Chaboud of AlpineFoil

www.windfoilzone.com

AlpineFoil is a renowned French kitefoiling brand based out of the Alps who is known for specializing in the design and manufacture of carbon, aluminium and titanium kitefoils for kitesurfing and foil windsurfing. For this upcoming season, AlpineFoil has been innovating yet again and finally launches its first range devoted to windfoil the Windfoil A1 Aluminium and the Windfoil A1 Carbon!

Windfoil Zone will test and review AlpineFoil A1 soon, but in the meantime, we have asked the founder, Damien Chaboud, to answer a few questions to know a little bit more about the brand, its vision and its products.

Name: Damien Chaboud
Age: 46
Citizenship: French
Home spot: Monteynard Lake, France (Lac de Monteynard)
Profession: AlpineFoil's founder and CEO

Windfoil Zone: Damien, thanks for answering our questions! Could you give us a little glimpse into your personal life?
I have a strong passion for everything which glides and flies! In the past, I have had the opportunity to try paragliding, then windsurfing, followed by all kinds of foiling activities since 2005.
I come from the industrial world and have an engineering background, which allowed me to acquire knowledge on composite materials and the necessary rigor in industrial processes to develop products.
This experience enabled me to master all aspects of product manufacturing and design in order to reach a high-quality level, which also meets my own standards and requirements.

WZ: Tell us about the AlpineFoil adventure? How did it start and where are you today?
Like many industrial success stories, everything started out one evening after work in a garage, where I used to make my own gear to sail so that I could get out and sail with my friends on the weekends. After that, I was asked to make some foils for my friends and then that progressed to making them for friends of friends…, and that is how it all got started.

We finally started our company in 2013, with a new building site and a production team to meet the growing demand. In 2017, we produced about 500 hydrofoils in our production plant. We are still a small company with a family culture, which makes premium hydrofoils made in France.
AlpineFoil's development follows the sales evolution and our way of working is improving at the same time. This year, we integrated two new robots into our production in order to make the sanding of the foils easier for our employees. The goal is to free them from this tedious task so that they can focus on having a flawless finish on the products.

In 2018, AlpineFoil built the first factory in the world 100% dedicated to foil manufacturing. This is a new step in the company's development, as this will allow us to increase our production capacity and continue to develop the technology aspect of our hydrofoils.

WZ: Kitefoiling has been around for a few years already, and like several other kite brands, AlpineFoil is now developing into windfoiling. Tell us why you're moving in this direction and how your brand vision differs from others.
As I mentioned before, I have been windsurfing for many years before moving to kitesurfing, and I have always loved the unique sensations windsurfing gives. When I saw the possibility to build a performant windfoil, it just made logical sense to get involved with the development of this amazing sport. We could use our many years of experience in the hydrofoil world to offer a high-quality range of windfoils for windsurfers. Our windfoils benefit from the expertise of the company and all the patented technology developed by AlpineFoil, such as the "sacrificial anode". (Aluminium is unfortunately susceptible to corrosion in the saline marine environment. After intense research, AlpineFoil has found a cure that completely revolutionizes aluminium windfoil: SACS-technology (Sacrificial Anode anti-Corrosion System), developed and patented by AlpineFoil, an ultra-efficient anti-corrosion system.)

Since the early days of AlpineFoil in my garage 13 years ago, my motto has always been to achieve excellence both for the glide and for the design of our products. We realise that mostly all foils are working, but rare are those that allow you to fly with real comfort, stability, and high performance in terms of speed. To do this, nothing can be left to chance. At AlpineFoil, we seek perfection in every detail, on the choice of materials, in our manufacturing techniques, and in the final finishing of our products, no matter the product range. Our company tries to combine the high-level precision of industrial technologies with the flexibility of a craft company at best. This is what differentiates us from the large companies on the market.

WZ: You have recently launched the A1 windfoil concept, with both alloy and carbon construction. Would you tell us a bit more about the foil and its modular concept?
The windfoil A1's concept is clear: design a modular and scalable windfoil, as efficient as possible in order to give the rider a regular progression. The idea is to start from a foil at the top of the range and then make a more affordable version with an aluminium mast, while keeping the features of the premium version.
With this modularity concept, we wanted to offer the aluminium foil with 4 different types of foil heads: Tuttle, Deep Tuttle, Powerbox, and Plate, so that it can be adapted to wide variety of boards. AlpineFoil has established a reputation as a quality supplier in the kitefoil industry thanks to our advanced technologies, and we want to continue in the same direction when it comes to windfoiling.

WZ: Windfoiling is still very young. How do you see the future of windfoiling? Just a trend or a true revolution in modern windsurfing?

It will become a new standard, for sure. We have already seen this in the kitesurf industry. Windsurfing was a revolution in the 80's, then kitesurfing in the 2000's, kitefoiling became a commercial success in 2010, and now it is windfoiling's turn to create its revolution!
Many former windsurfers, as myself, will come back to the sport to try and experience the foiling advantages. This is definitely a true revolution in which we are proud to be a part of!

WZ: Damien, thank you for answering our questions. The last word is yours. Do you have anything to add to finish off this interview?

My grandfather often said to me "why settle for 'just ok' when perfection is at hand?"
Today, this is the vision which guides our company.

Thanks to Windfoil Zone for all the work you do!

NB! Stocks of AlpineFoil A1 are limited due to a high demand.

Please check the amazing website of WindFoil Zone which is the bible of WindFoil : https://www.windfoilzone.com/

Une fois n'est pas coutume, un magazine de Kite a testé nos produits et le résultat est sans appel : l'Access V3 2018 est le meilleur foil aluminium du marché, l'ultimate est quant à lui qualifié en toute modestie de "Bijou" et la board VR5 obtient une note de 19/20...

Il aurait été difficilement envisageable d'avoir un meilleur avis sur nos produits. Cela vient confirmer les nombreux retours que nous avons de la part de nos clients sur la qualité irréprochable de nos produits. C'est la reconnaissance de longues années d'expériences et de recherches constantes pour l'innovation et l'amélioration des performances sur l'eau.

On vous laisse apprécier l'article.