Test/Customer review on the Wing Hawk 1800
Back Raphael test on the Hawk 1800 wing in Wingfoil in the different wind ranges
Find all the details of the Hawk 1800 on its dedicated page https://www.alpinefoil.com/en/kitefoil-hydrofoil-foilboard-pages/kitefoil/wingfoil-alpinefoil-hawk.html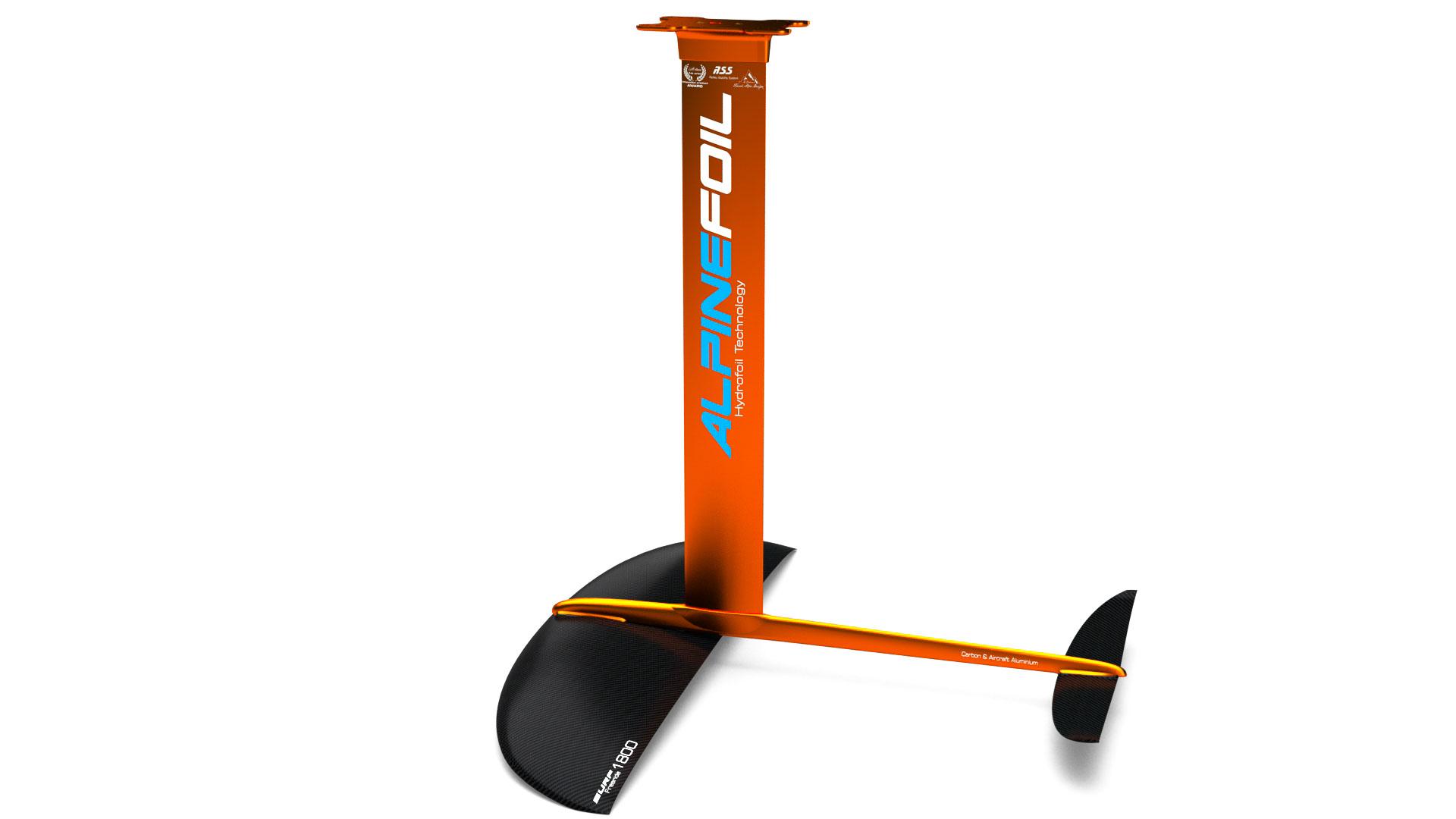 Test/Customer review on the Wing Race M 580
An expected return to the water ... we share that of Raphaël who was finally able to launch his new Race M580 and enjoy the gliding sensations again.
Find all the details of this Wing which completes the Race range on its dedicated page https://www.alpinefoil.com/en/kitefoil-hydrofoil-foilboard-pages/kitefoil-wing/aile-race-m580-eng.html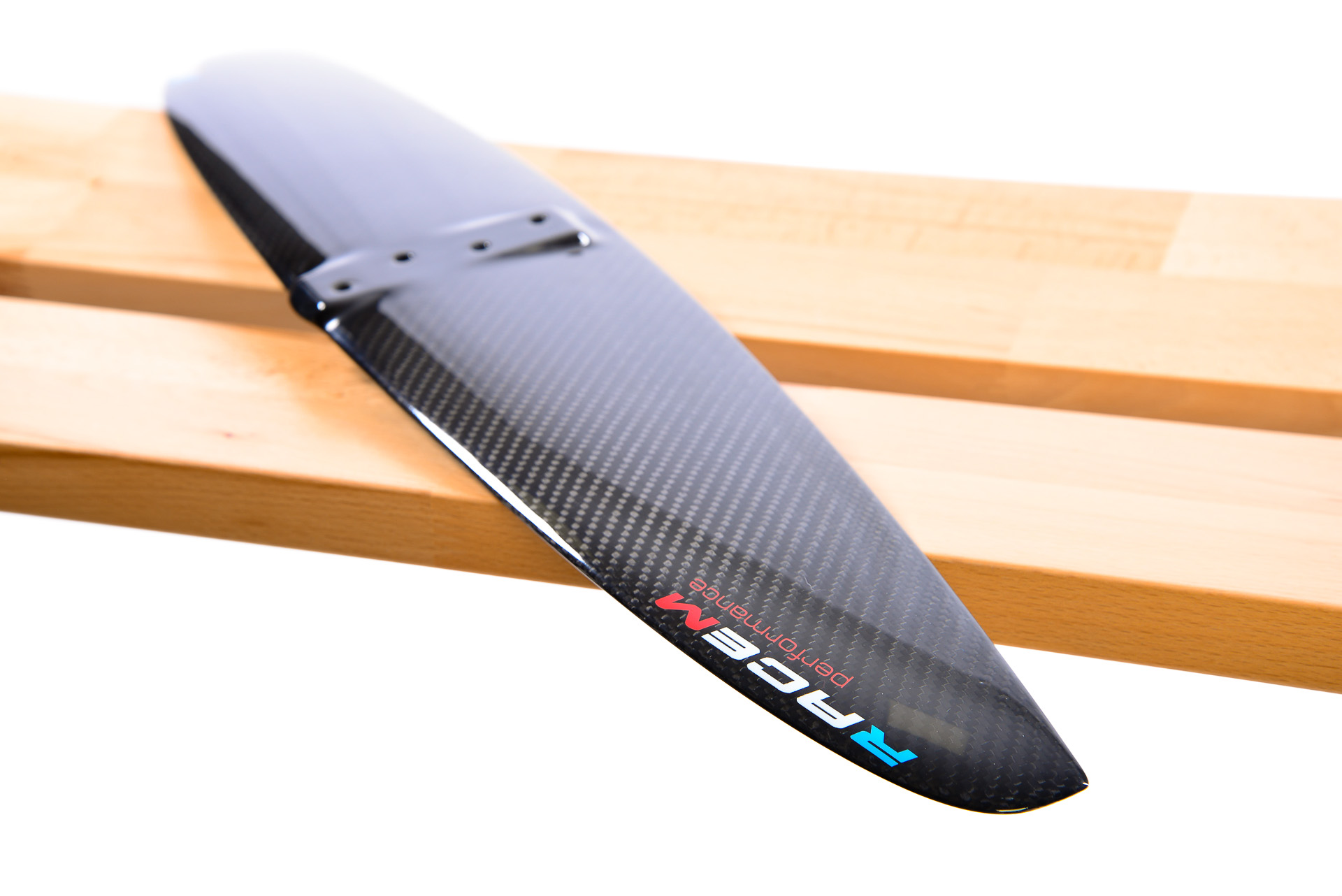 Customer Review of KiteFoil Rave with Wave wing 1200
We share with you 2 nice feedback with the Kite Foil Rave and Wave 1200. 2 experiments signed by Raf Ladin with the Board FS2 and Fabien Gauthier with the Pocket FS3-XS 2020.
Raf is with the board FS2 and Fabien with the pocket FS3-XS 2020.

Thanks to them.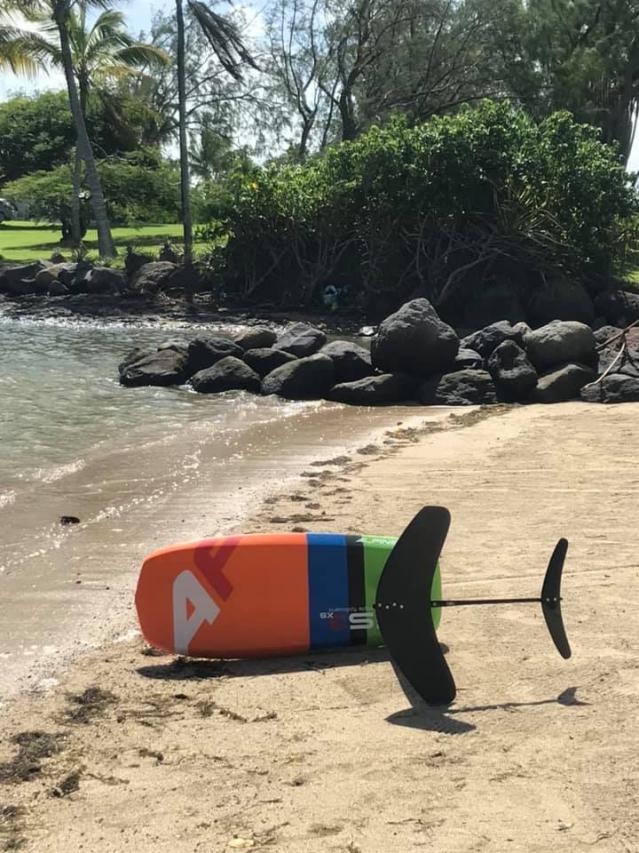 Raid WinFoil Toulon - La Rade - St Mandrier
Congratulations to Gautier Guichard for his participation in the raid Windfoil Toulon-La rade - St Mandrier to îles des deux frères- Cap de Carquieranne
A new great performance in Windfoil and especially a lot of fun for Gautier who has traveled 70 km in 20nds last weekend on the event organized by the French Windfoil Association.
Gautier, rider AlpineFoil, was equipped for this occasion with Windfloil Alu A1 mounted with the ULW 1200 and the new Board 2020 AWF3 215 x 78 128 liters. Gautier obviously took a lot of fun with this combo which was perfectly adapted for this raid and which confirms the possibilities offered by the ULW 1200 at the same time in low range, upwind, navigation in the strong winds, control and speed of displacement high.

Thank you Gautier for your return in pictures and especially CONGRATULATIONS to you.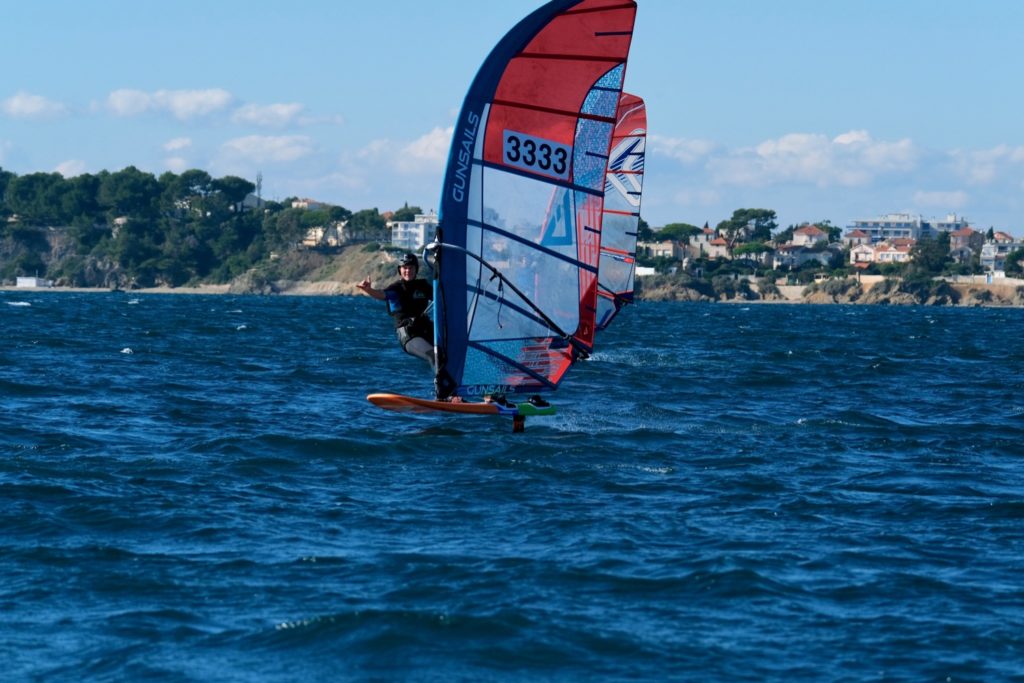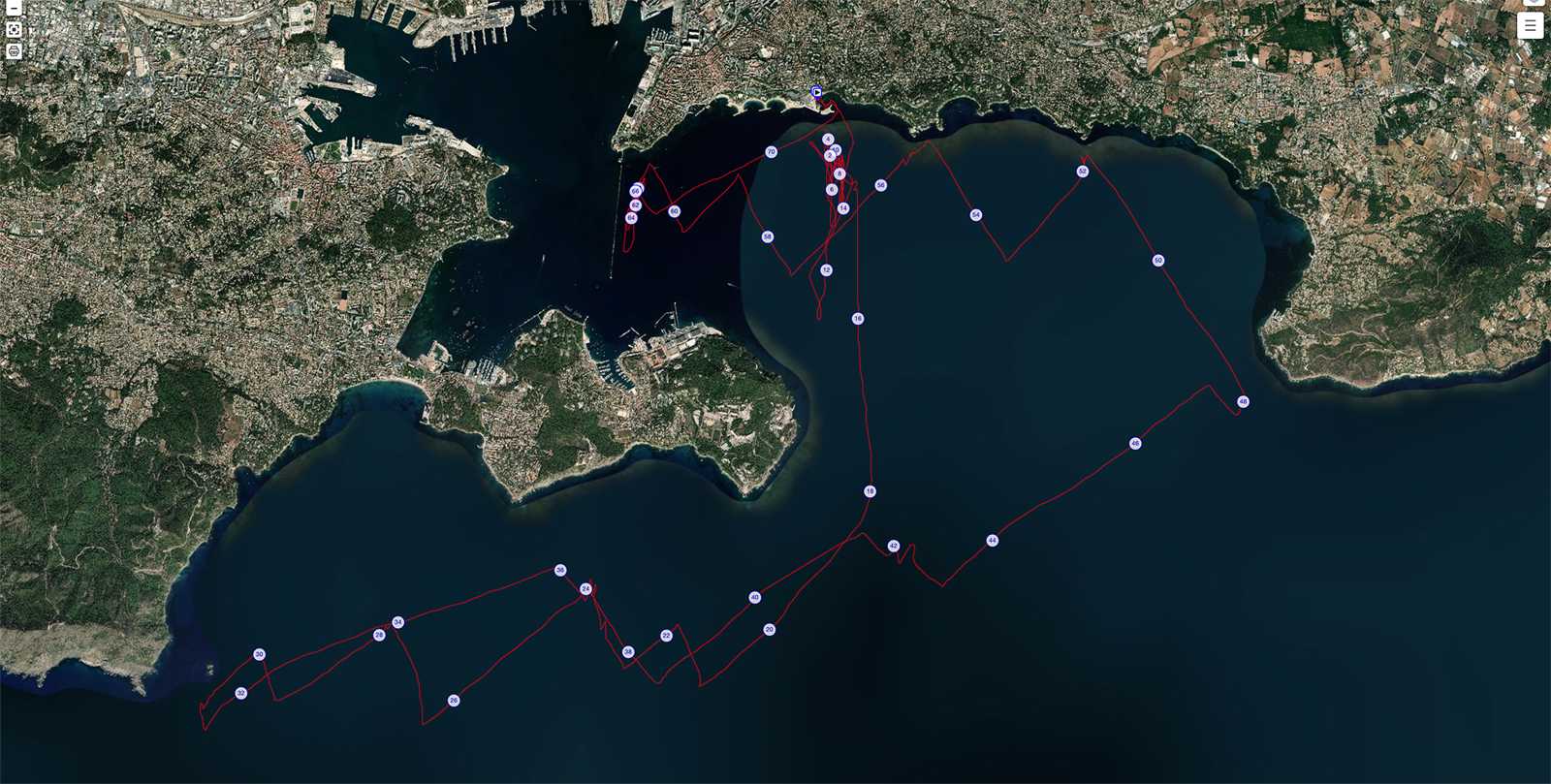 Customer reviews kitefoil Alpinefoil Rave - VR6 2020
The little shot of Peps at AlpineFoil this week ... We do not regret having cracked.

We wanted to share with you the return of a customer following the purchase of his AlpineFoil Rave.
It is this type of return that makes you want to continue to develop products and to believe in our Made in France production. The goal for us is to satisfy our customers more and more about the quality and especially the pleasure of skiing.
Our explanations and the attention we strive at best to bring to each customer, to advise him on the best adapted product is really the philosophy and the little more that we try to bring.

Patrice thank you for this good boost for the team who wishes you a good progress with your new toy.
«Patrice The 04/11/2019
After my first foil a lot of hesitation before moving to a new product
Call to ALPINEFOIL conseil by Damien CHABOUD directly
Decide to go there on the occasion of a trip to see the products in the showroom (I needed to see the products)
Welcome by Damien CHABOUD directly and true debacle on the products Alpinefoil ... but I would not have had, I cracked: Purchase a rave associated with the board VR6 2020 (yes, I broke my piggy bank and it is true that I hesitated between the access carbon and VR5)
Well I must say that I was good wall and the finish is top with a bonus visit of the factory
Back in the Atlantic Loire with the combo and test in complicated conditions on the first two outputs, a lot of waves and current, disappointment .... Call to Alpinefoil for adjustments and advice. Damien even confirms the placement of the straps and calles and even propose settings if I want to find the same behavior as my old foil but remains on these initial advice and settings, and he was right
New test last week and it's gone live. impressive, all the advice proved to be accurate. Now it's up to me to progress because far from the capabilities of the machine in any case see the photo no equivalent in terms of finish and evolution (it's just a killer to watch) to follow but super happy from my investment I look forward to trying it now in very light conditions to see how far we can go with it. To be continued...
Patrice«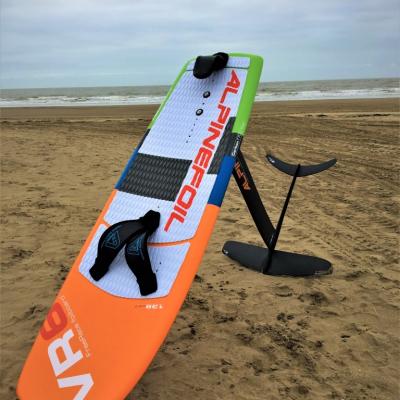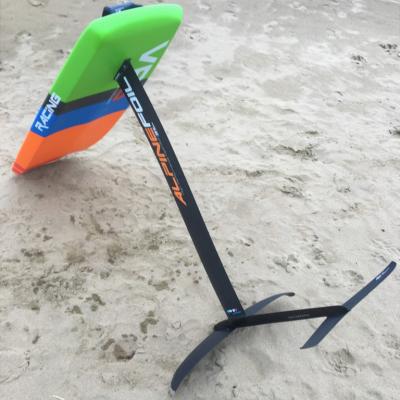 Damien Chaboud's interview by WindFoil Zone
Interview with Damien Chaboud of AlpineFoil
AlpineFoil is a renowned French kitefoiling brand based out of the Alps who is known for specializing in the design and manufacture of carbon, aluminium and titanium kitefoils for kitesurfing and foil windsurfing. For this upcoming season, AlpineFoil has been innovating yet again and finally launches its first range devoted to windfoil the Windfoil A1 Aluminium and the Windfoil A1 Carbon!
Windfoil Zone will test and review AlpineFoil A1 soon, but in the meantime, we have asked the founder, Damien Chaboud, to answer a few questions to know a little bit more about the brand, its vision and its products.
Name: Damien Chaboud
Age: 46
Citizenship: French
Home spot: Monteynard Lake, France (Lac de Monteynard)
Profession: AlpineFoil's founder and CEO
Windfoil Zone: Damien, thanks for answering our questions! Could you give us a little glimpse into your personal life?
I have a strong passion for everything which glides and flies! In the past, I have had the opportunity to try paragliding, then windsurfing, followed by all kinds of foiling activities since 2005.
I come from the industrial world and have an engineering background, which allowed me to acquire knowledge on composite materials and the necessary rigor in industrial processes to develop products.
This experience enabled me to master all aspects of product manufacturing and design in order to reach a high-quality level, which also meets my own standards and requirements.
WZ: Tell us about the AlpineFoil adventure? How did it start and where are you today?
Like many industrial success stories, everything started out one evening after work in a garage, where I used to make my own gear to sail so that I could get out and sail with my friends on the weekends. After that, I was asked to make some foils for my friends and then that progressed to making them for friends of friends…, and that is how it all got started.
We finally started our company in 2013, with a new building site and a production team to meet the growing demand. In 2017, we produced about 500 hydrofoils in our production plant. We are still a small company with a family culture, which makes premium hydrofoils made in France.
AlpineFoil's development follows the sales evolution and our way of working is improving at the same time. This year, we integrated two new robots into our production in order to make the sanding of the foils easier for our employees. The goal is to free them from this tedious task so that they can focus on having a flawless finish on the products.
In 2018, AlpineFoil built the first factory in the world 100% dedicated to foil manufacturing. This is a new step in the company's development, as this will allow us to increase our production capacity and continue to develop the technology aspect of our hydrofoils.
WZ: Kitefoiling has been around for a few years already, and like several other kite brands, AlpineFoil is now developing into windfoiling. Tell us why you're moving in this direction and how your brand vision differs from others.
As I mentioned before, I have been windsurfing for many years before moving to kitesurfing, and I have always loved the unique sensations windsurfing gives. When I saw the possibility to build a performant windfoil, it just made logical sense to get involved with the development of this amazing sport. We could use our many years of experience in the hydrofoil world to offer a high-quality range of windfoils for windsurfers. Our windfoils benefit from the expertise of the company and all the patented technology developed by AlpineFoil, such as the "sacrificial anode". (Aluminium is unfortunately susceptible to corrosion in the saline marine environment. After intense research, AlpineFoil has found a cure that completely revolutionizes aluminium windfoil: SACS-technology (Sacrificial Anode anti-Corrosion System), developed and patented by AlpineFoil, an ultra-efficient anti-corrosion system.)
Since the early days of AlpineFoil in my garage 13 years ago, my motto has always been to achieve excellence both for the glide and for the design of our products. We realise that mostly all foils are working, but rare are those that allow you to fly with real comfort, stability, and high performance in terms of speed. To do this, nothing can be left to chance. At AlpineFoil, we seek perfection in every detail, on the choice of materials, in our manufacturing techniques, and in the final finishing of our products, no matter the product range. Our company tries to combine the high-level precision of industrial technologies with the flexibility of a craft company at best. This is what differentiates us from the large companies on the market.
WZ: You have recently launched the A1 windfoil concept, with both alloy and carbon construction. Would you tell us a bit more about the foil and its modular concept?
The windfoil A1's concept is clear: design a modular and scalable windfoil, as efficient as possible in order to give the rider a regular progression. The idea is to start from a foil at the top of the range and then make a more affordable version with an aluminium mast, while keeping the features of the premium version.
With this modularity concept, we wanted to offer the aluminium foil with 4 different types of foil heads: Tuttle, Deep Tuttle, Powerbox, and Plate, so that it can be adapted to wide variety of boards. AlpineFoil has established a reputation as a quality supplier in the kitefoil industry thanks to our advanced technologies, and we want to continue in the same direction when it comes to windfoiling.
WZ: Windfoiling is still very young. How do you see the future of windfoiling? Just a trend or a true revolution in modern windsurfing?
It will become a new standard, for sure. We have already seen this in the kitesurf industry. Windsurfing was a revolution in the 80's, then kitesurfing in the 2000's, kitefoiling became a commercial success in 2010, and now it is windfoiling's turn to create its revolution!
Many former windsurfers, as myself, will come back to the sport to try and experience the foiling advantages. This is definitely a true revolution in which we are proud to be a part of!
WZ: Damien, thank you for answering our questions. The last word is yours. Do you have anything to add to finish off this interview?

My grandfather often said to me "why settle for 'just ok' when perfection is at hand?"
Today, this is the vision which guides our company.
Thanks to Windfoil Zone for all the work you do!
NB! Stocks of AlpineFoil A1 are limited due to a high demand.
Please check the amazing website of WindFoil Zone which is the bible of WindFoil : https://www.windfoilzone.com
An amazing test of our products in the french Kiteboarder Magazine !
They say that the Access V3 is the best aluminium foil on the current market, the ultimate has been called "Jewel", and the VR5 has got an amazing rate of 19/20...
For those who have some knowledge in french, here is the article !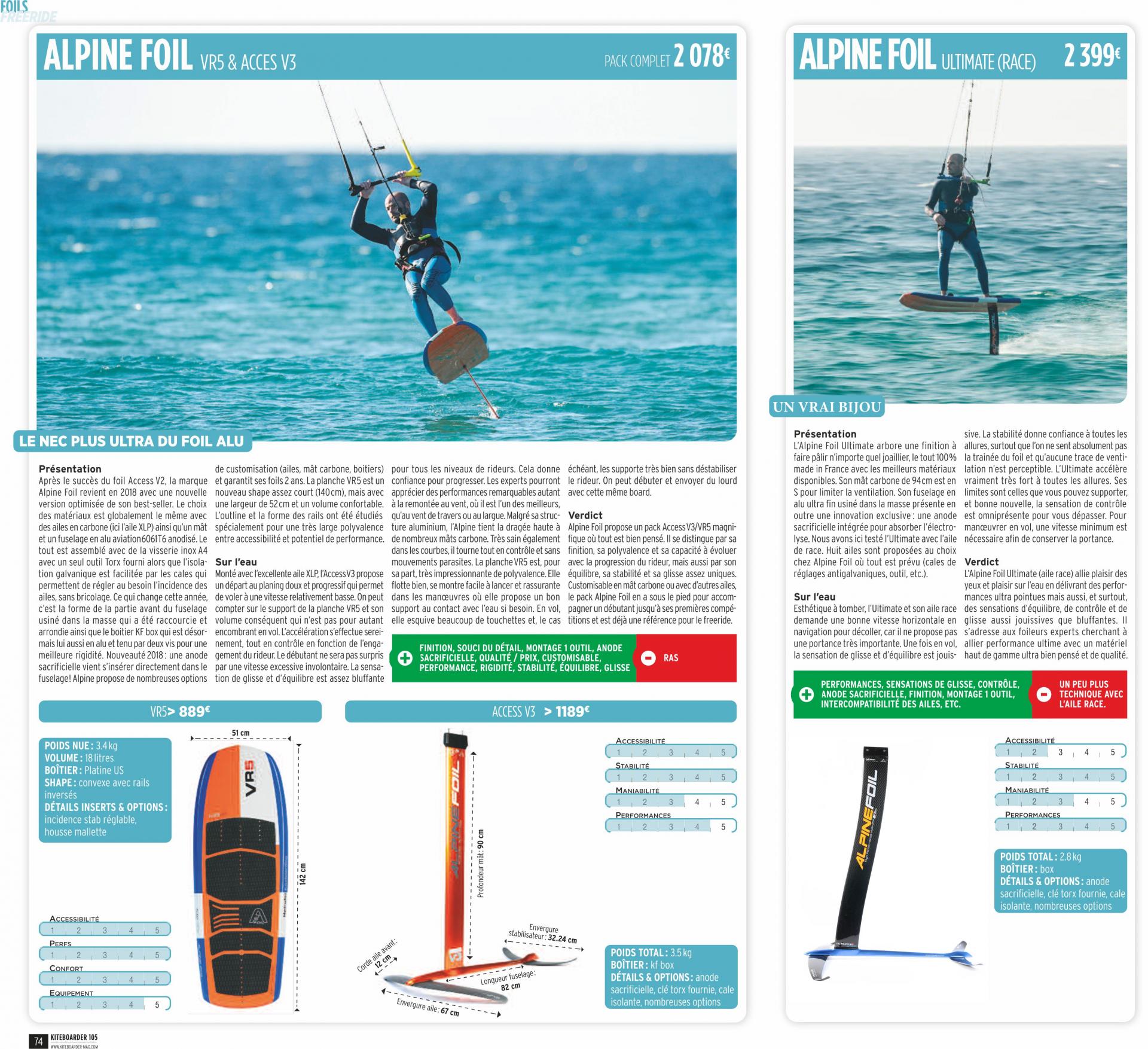 Video Windfoil AlpineFoil on the Lake of Monteynard
After some images by the new windfoil Alpinefoil aluminum and carbon, here is a first video to discover these new windfoil there action were shot during the last weekends on the lake of Monteynard, Steave Lyne and louvet Anne honored us with making out a will our products, in sometimes whimsical conditions (10 / 30 knots), the stability and the accessibility of the new windfoil alpinefoil allowed nevertheless to realize beautiful images. On the other hand of very beautiful condition of lake allowed steave to navigate in little air the last weekend
Video Windfoil AlpineFoil on the Lake of Monteynard
After some images by the new windfoil Alpinefoil aluminum and carbon, here is a first video to discover these new windfoil there action were shot during the last weekends on the lake of Monteynard, Steave Lyne and louvet Anne honored us with making out a will our products, in sometimes whimsical conditions (10 / 30 knots), the stability and the accessibility of the new windfoil alpinefoil allowed nevertheless to realize beautiful images. On the other hand of very beautiful condition of lake allowed steave to navigate in little air the last weekend
Feedback Customer Alpinefoil Access 5.0
Customer feedback on the Access 5.0: http://kitefoil.forumactif.org/t2745p50-new-alpin-foil-2015
Here are the first customer return on Access 5.0 fired website Kitefoil forum:
Message Benoit Miquel July 6, 2015
Hi everybody.
For those who know me, this is the "Seagull".
And yes, I started to foil: but eh quiet because it is not obvious !!
Then it is 4 times that I wrinkled foil, and I had the occassion to test it 3 models:
- ALPINE FOIL Access 5.0 (alu)
- KETOS by Orana
- SROKA
3 of these tests, I spring with a huge banana with the ALPINE FOIL Access 5.0.
Model with aluminum mast and fuselage.
I am at my 4th session of foil, but phew thing what I could do with alpine.
Super stable and rigid: the blow when you take a lot of speed, the foil remains super super stable compared to others.
Adaptable light wind wing or wing more efficient.
In short, easy glide, great instinctive, like a little toy for beginners like me or others that send fadas serious (dedicated to Hugo and Romain !!!).
What else to say on this foil ... oh yes the board. Pfff ... AT TOP, not big, not too small, the straps made in alpine 'were great !! I enjoyed the config 2 straps to the front and then the back foot V strapless !!
Anyway, I'm not a crack but there's not surfing, I gets off this my session with ACCESS 5.0 made by Damien Chaboud !!
I think (and even that's for sure), I'll take one!
Why?!
Because I already know the team well ALPINEFOIL and they were great to me (counseling, testing etc.). Then, have a great foil perfo 'but equally accessible and finally downright moin expensive than full carbon (€ 1000 moin, what we done for € 1095) !!
Cheers everyone and soon on (above) the water!
The Seagull
Jm33 message of July 13, 2015
"I had the chance to try it last Sunday foil, after trying the Manta few weeks ago, the AlpineFoil gave me much more good feelings that the Manta.
Already in terms of robustness, junction mat / fuselage is much more rigid, no game like the Manta, fixings wing and stab with the same feeling ... The whole is still very heavy, taking to wear dt even to maneuver in the water, but the water start sent the clear impression is that of having always been able to find out the foil so the stability is HUGE! (that said I liked the Manta side stability).
He does not move and it has all the appearance including downwind, no breakdown detected during the test. Dt suitable speed softness in pides although I felt the inertia of the board.
A perfect foil for learning or for freeride, I think we must quickly master the "airjibe" and so transfers the foil is easy! To be confirmed by another test longer ... "
Serialkiler05 message of July 13, 2015
Testing the Access 5.0 yesterday with the wing freeride, I had already tried with the wing sports during the friendly.
Heavy to go to the water, then it is forgotten. Sensation stability at all speeds, easier curve with the sport. Max very easy to reach (well mine because I think we can go faster). Immediate feeling of gliding.
Clearly a very good freeride foil with perfs at least as much carbon foil.
You can find other alpinefoil return on the following link
http://kite-foil.com/kitefoil-alpinefoil-5-0-access/
http://www.zeemono.com/fr/blog/le-kitefoil-raconte-par-la-team-alpinefoil/44