Discover the DW range - The versatility by Alpinefoil
DW1680, DW1370, DW980
Learn more about the new range of wings that revolutionize the practice of WINGFOIL & WINDFOIL
Made in France with the best materials, Alpinefoil opens the doors to versatility, ultra-low beach and Wingfoil gliding
Wingfoil / Kitefoil MODULAR - The made in France innovation
Discover the NEW Wingfoil and Kitefoil MODULAR
The made in France Accessible to the greatest number with an aluminum and carbon wing version that starts at 1299 euros and a carbon version at only 1664 euros
A super rigid foil designed for the practice of Wingfoil, Kitefoil, Surfoil, SUPfoil, Dockstart and Wakefoil
The MODULAR, versatility by Alpinefoil.
Hadou, the Wingfoil expert, tells us even more about the new MODULAR !
Check out the dedicated videos to avoid missing out on the innovations that make up this new Wingfoil by Alpinefoil :
New stabilizer Wingfoil / Windfoil
Boost your Wingfoil or Windfoil !!!!
Discover the new stabilizers SHA 239 and SHA 188
Super High Aspect stabilizers made in the Alps
Nicolas came to the home spot to discover and test the novelties, he gives us his opinion after a little test in the fresh waters of the start of the season.
TEST REVIEW Wingfoil Carbon - Alpinefoil Hawk V2.1
After the first video presentation of the Wingfoil Carbon Alpinefoil range, Hadou comes back with a complete Debrief on the ground, and he tells us a little more about this Wingfoil Carbon in his V2 and more about the new stabilizers SHA 239 & SHA 188.
A test to discover which covers most part of the wings of our Wingfoil range.
WingFoil Range is available here !
KITEBOARDER 2022 Review - The favorite brand of the editorial team !!!
Wingfoil - EZEE 1800


Alpinefoil, renowned for its high-end and affordable made in France foils, offers a wing foil at a SUPER COMPETITIVE price.
Launch Price : 1039 EUROS (Foil only) - MADE IN FRANCE
It's the ideal foil to discover the practice of wing without breaking your savings account and limiting yourself in possibilities.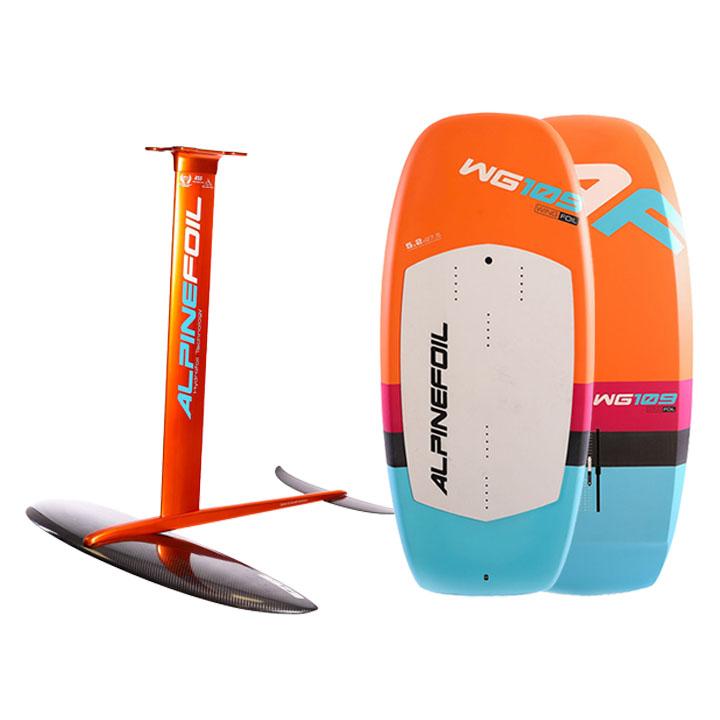 ​​​​​
WingFoil Carbon, what are the advantages?
Come discover with Damien the features of the brand-new foil Hawk Carbon equipped with the latest model of mast AlpineFoil: 83 S-shape platinum.
On the shores of the Laffrey Lake, accompanied by a gentle sound of water,
The designer himself of this foil explains the strengths and characteristics of this new AlpineFoil Ultra light model with the help of some diagrams.
After this short video, the Hawk Carbon will no more have secrets for you!
Windfoil A1, the ultra performance in light wind
The Windfoil A1 RACE - Performance has never been so accessible !
122 cm

Fuselage

+ sacrificial anode

Carbon

Mast 97 cm
M46J High-Module
Regata

1100 cm²

Wing

Race Stabilizer
About us
Alpine Design is a French mechanical engineering design firm specializing in foil design and manufacturing for over 13 years.
Its products are intended for the industry of boating: Sailing, kitesurfing, windsurfing, wing surfing and stand-up paddle on foil. Our foils in carbon, aluminium and titanium are the result of a great expertise and a deep knowledge of mechanics and composites.
Choosing a kitefoil, a windfoil, a wingfoil or a SUPfoil AlpineFoil means choosing the know-how and quality Made in France.
AlpineFoil distributes its products in more than 75 countries! And just won the export prize "Alpes Isère 2020"

TARIFF ALPINEFOIL (3.16 Mo)
NOT SURE WHICH MODEL TO BUY? WOULD YOU LIKE ADVICE BASED ON YOUR PRACTICE AND LEVEL?
We answer your questions by email : Contact us here.
And by phone :
FROM FRANCE : 04 58 00 57 80
FROM FOREIGN COUNTRIES : +33 4 58 00 57 80