AlpineFoil : Kitefoil, Windfoil, SUP Foil. The new glide of Kitesurf, Windsurf and SUP !
for a specific proforma invoice or advices, feel free to contact us by phone: +33 4 58 00 57 80 or What's App: +33 6 73 19 37 23 we speak english
Download the

Alpinefoil Price list 2019 march (2.34 Mo)
we ship in more then 75 countries in the world 1 days for europe, 2 days for the US , 4 days for Autralia
AlpineFoil 2019 New Gear : Access Carbon Lift 2019
Download the

Alpinefoil Price list 2019 march (2.34 Mo)
we ship in more then 75 countries in the world 1 days for europe, 2 days for the US , 4 days for Autralia

Which kitefoil to buy ? How to choose your foil according to your level : beginner, confirmed, expert ? Which board to choose ? How much is it ? New or secondhand ? We are here to help and advise you : Contact us here.
Call us : +33 4 58 00 57 80
The AlpineFoil company
Alpine Design is a French mechanical engineering design office specializing in the design and manufacture of carbon, aluminum and titanium kitefoils for kitesurfing and foiling windsurfing. Today, the company distributes its products in more than 65 countries​ !


AlpineFoil : the choice of design, innovation and quality made in french Alps!

With 10 years of experience in the design and manufacture of kitefoils, windfoils (windsurf on foil) and SUP (Stand Up Paddle), and thanks to a great expertise and a deep knowledge of mechanics, AlpineFoil develops meticulously each item in its range then submits it to a series of simulations and tests that demonstrate its effectiveness and resistance. The result of this is foils of incomparable lightness and solidity.
AlpineFoil is particularly distinguished from the usual production of foils by the use of materials of the highest quality, as well as by made in France manufacturing. The RTeam (Race Team) range is the concentrate of a whole French artisanal know-how : each of its products is elaborated, worked and fine-tuned by hand.
Innovation, Design and Performance are the watchwords of the company. Always anxious to perfect its skills, the brand is constantly refining its designs and continually innovating in aid of sports performance : that's why it has developed and patented its own processes and technologies.
Finally, AlpineFoil makes it a point of honor to satisfy the customer. Thus, it offers foils reassuring and providing inexpressible sensations with the best value for money. The company also has a after-sales service that will lavish the necessary repairs on your foil in cas of need.

Always with the aim of guaranteeing customer satisfaction, AlpineFoil has designed evolutionary products : everything is adaptable, modifiable or interchangeable. Thanks to this exceptional scalability, to its complete range, and thanks to its optimal capacities and glide, the brand is aimed at ALL RIDERS, whether beginners, confirmed, experts or even competitors ! It guarantees everyone a considerable progression and / or improvement. As such, we can recall Team AlpineFoil won the 2017 Engie Kite Tour Cup after being crowned champion of France in 2016.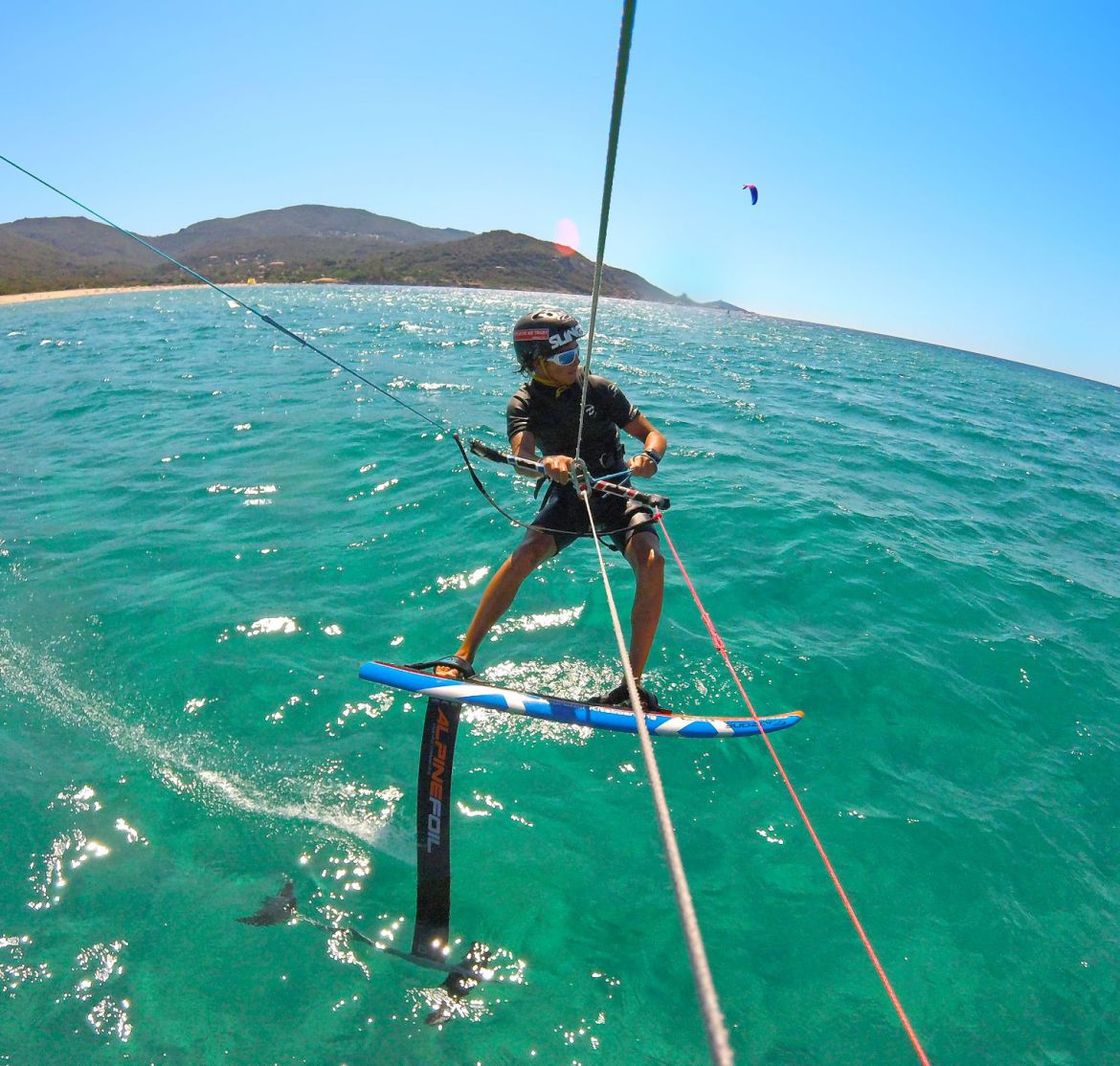 What is kitefoil ?


After funboard in the 80s and kitesurfing in the 2000s, kitefoil is revolutionizing the slide. This young discipline, which consists of rise above water with a foil placed under the board, provides new sensations, extraordinary and unique, similar to those felt in snowboarding on a fine powder. The pure glide, mingled with perfect silence, gives the impression of flying freely.

The kitefoil allows to navigate with ultra light wind (less than 5/6 knots), but also with strong winds (30 knots). It's therefore accessible to all : beginners, confirmed and experts, and it's adapted for all practices. Its incredible rise to the wind allows to consider all the water as a playground. Also kitefoil multiplies the practice time of kitesurfing : near to 100% of the movings on the spot are validated by a session.


Have a good navigation on the AlpineFoil website !








Hugo Chaboud presents the latest model Access Carbon 2019! Perfomant, light, manageable, accessible, this kitefoil has everything to seduce you. Featuring the latest technologies of the brand AlpineFoil including the now famous sacrificial anode.
This kitefoil is now supplied with the front wing Lift which was the great success of the year 2018 and will now equip all our foils. Indeed, AlpineFoil wants to offer to all its customers the comfort in navigation, a low wind start and increased stability thanks to this new wing Lift.

All the details on the Access Carbon 2019 in the video!

A few months ago, we introduced the revolutionary SACS system to the Hydrofoil Community. This sacrificial anode has been tested during all this season long in seawater and works perfectly!

Thanks to this great result, we are now sure that this system must absolutely equip the whole range of kitefoils and windfoils. AlpineFoil is the only hydrofoil maker able to provide a sacrificial anode that increases drastically the durability of foils and guarantees the ultimate performances for years. Our goal is to provide the best product to our customer and that's why we innovate continuously.

For this reason, AlpineFoil is proud to equip all the new kitefoils and windfoils 2019 with the sacrificial anode. These foils are already available on the web store or in our partners' stores.
Do not hesitate to contact us for more information.