AlpineFoil : Kitefoil, Windfoil, SUP Foil. The new glide of Kitesurf, Windsurf and SUP !
Warning ! AlpineFoil will be closed from July 27 to August 22. For your orders, do not hesitate to leave us a message or to send us your orders by email or directly on the website Orders will be processed in the order of arrival and deliveries will resume on August 22nd. We wish you a good summer ! Contact us
Check out our summer Kitefoil pack!
AlpineFoil 2018 New Gear : Access V3

AlpineFoil Shop


Prices Alpinefoil 2018 : Price List Kitefoil, Windfoil, Board and Accessories (761.19 Ko)

Which kitefoil to buy ? How to choose your foil according to your level : beginner, confirmed, expert ? Which board to choose ? How much is it ? New or secondhand ? We are here to help and advise you : Contact us here.
The AlpineFoil company
Alpine Design is a French mechanical engineering design office specializing in the design and manufacture of carbon, aluminum and titanium kitefoils for kitesurfing and foiling windsurfing. Today, the company distributes its products in more than 65 countries​ !


AlpineFoil : the choice of design, innovation and quality made in french Alps!

With 10 years of experience in the design and manufacture of kitefoils, windfoils (windsurf on foil) and SUP (Stand Up Paddle), and thanks to a great expertise and a deep knowledge of mechanics, AlpineFoil develops meticulously each item in its range then submits it to a series of simulations and tests that demonstrate its effectiveness and resistance. The result of this is foils of incomparable lightness and solidity.
AlpineFoil is particularly distinguished from the usual production of foils by the use of materials of the highest quality, as well as by made in France manufacturing. The RTeam (Race Team) range is the concentrate of a whole French artisanal know-how : each of its products is elaborated, worked and fine-tuned by hand.
Innovation, Design and Performance are the watchwords of the company. Always anxious to perfect its skills, the brand is constantly refining its designs and continually innovating in aid of sports performance : that's why it has developed and patented its own processes and technologies.
Finally, AlpineFoil makes it a point of honor to satisfy the customer. Thus, it offers foils reassuring and providing inexpressible sensations with the best value for money. The company also has a after-sales service that will lavish the necessary repairs on your foil in cas of need.

Always with the aim of guaranteeing customer satisfaction, AlpineFoil has designed evolutionary products : everything is adaptable, modifiable or interchangeable. Thanks to this exceptional scalability, to its complete range, and thanks to its optimal capacities and glide, the brand is aimed at ALL RIDERS, whether beginners, confirmed, experts or even competitors ! It guarantees everyone a considerable progression and / or improvement. As such, we can recall Team AlpineFoil won the 2017 Engie Kite Tour Cup after being crowned champion of France in 2016.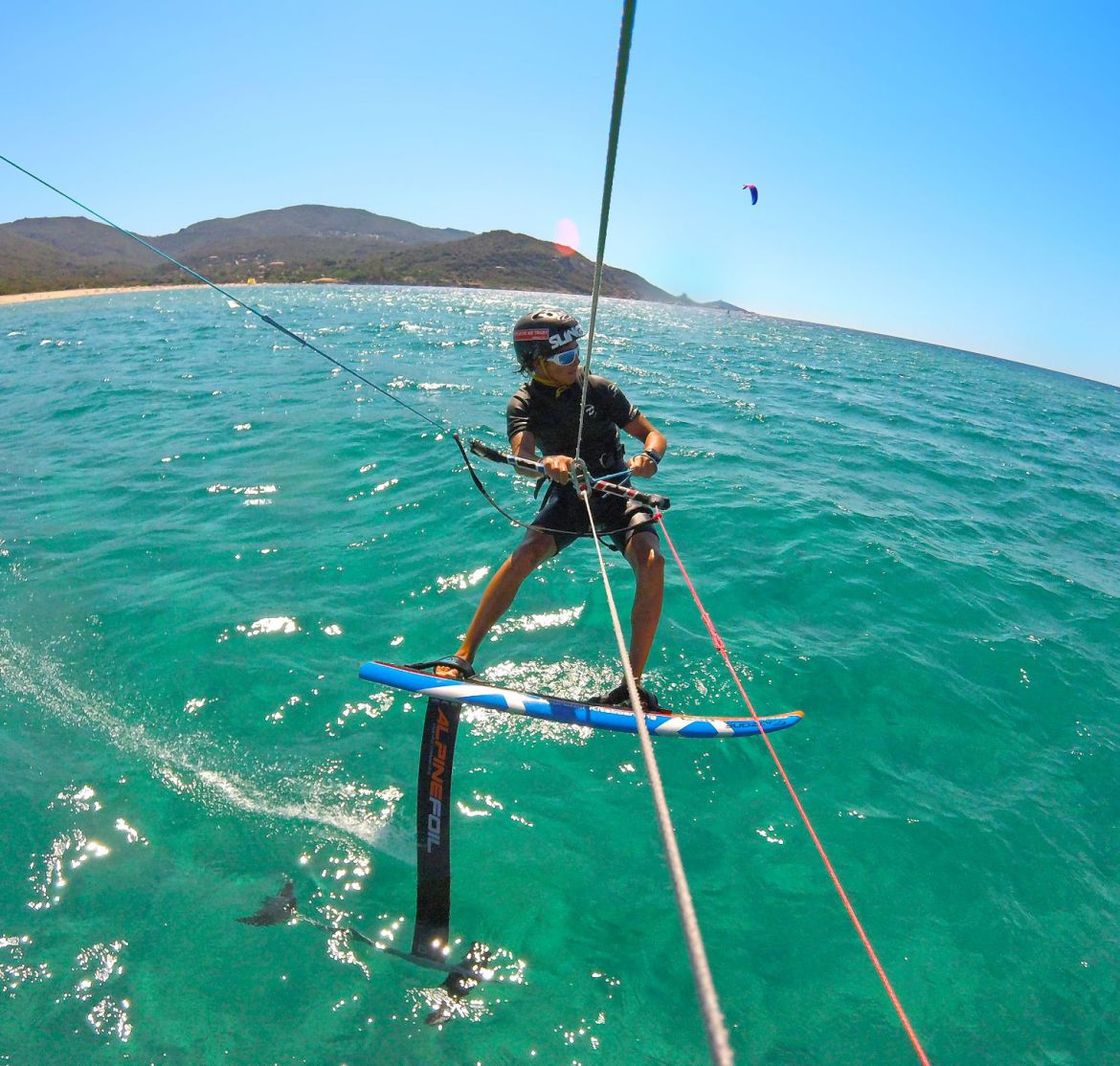 What is kitefoil ?


After funboard in the 80s and kitesurfing in the 2000s, kitefoil is revolutionizing the slide. This young discipline, which consists of rise above water with a foil placed under the board, provides new sensations, extraordinary and unique, similar to those felt in snowboarding on a fine powder. The pure glide, mingled with perfect silence, gives the impression of flying freely.

The kitefoil allows to navigate with ultra light wind (less than 5/6 knots), but also with strong winds (30 knots). It's therefore accessible to all : beginners, confirmed and experts, and it's adapted for all practices. Its incredible rise to the wind allows to consider all the water as a playground. Also kitefoil multiplies the practice time of kitesurfing : near to 100% of the movings on the spot are validated by a session.


Have a good navigation on the AlpineFoil website !








The AlpineFoil's family is growing fast and here is the new baby ! The Origin combined with the board VR3 convertible into surfkite is THE combo of this summer 2018 !

Small introduction with some images....

Interview with Damien Chaboud of AlpineFoil

AlpineFoil is a renowned French kitefoiling brand based out of the Alps who is known for specializing in the design and manufacture of carbon, aluminium and titanium kitefoils for kitesurfing and foil windsurfing. For this upcoming season, AlpineFoil has been innovating yet again and finally launches its first range devoted to windfoil the Windfoil A1 Aluminium and the Windfoil A1 Carbon!

Windfoil Zone will test and review AlpineFoil A1 soon, but in the meantime, we have asked the founder, Damien Chaboud, to answer a few questions to know a little bit more about the brand, its vision and its products.

Name: Damien Chaboud
Age: 46
Citizenship: French
Home spot: Monteynard Lake, France (Lac de Monteynard)
Profession: AlpineFoil's founder and CEO

Windfoil Zone: Damien, thanks for answering our questions! Could you give us a little glimpse into your personal life?
I have a strong passion for everything which glides and flies! In the past, I have had the opportunity to try paragliding, then windsurfing, followed by all kinds of foiling activities since 2005.
I come from the industrial world and have an engineering background, which allowed me to acquire knowledge on composite materials and the necessary rigor in industrial processes to develop products.
This experience enabled me to master all aspects of product manufacturing and design in order to reach a high-quality level, which also meets my own standards and requirements.

WZ: Tell us about the AlpineFoil adventure? How did it start and where are you today?
Like many industrial success stories, everything started out one evening after work in a garage, where I used to make my own gear to sail so that I could get out and sail with my friends on the weekends. After that, I was asked to make some foils for my friends and then that progressed to making them for friends of friends…, and that is how it all got started.

We finally started our company in 2013, with a new building site and a production team to meet the growing demand. In 2017, we produced about 500 hydrofoils in our production plant. We are still a small company with a family culture, which makes premium hydrofoils made in France.
AlpineFoil's development follows the sales evolution and our way of working is improving at the same time. This year, we integrated two new robots into our production in order to make the sanding of the foils easier for our employees. The goal is to free them from this tedious task so that they can focus on having a flawless finish on the products.

In 2018, AlpineFoil built the first factory in the world 100% dedicated to foil manufacturing. This is a new step in the company's development, as this will allow us to increase our production capacity and continue to develop the technology aspect of our hydrofoils.

WZ: Kitefoiling has been around for a few years already, and like several other kite brands, AlpineFoil is now developing into windfoiling. Tell us why you're moving in this direction and how your brand vision differs from others.
As I mentioned before, I have been windsurfing for many years before moving to kitesurfing, and I have always loved the unique sensations windsurfing gives. When I saw the possibility to build a performant windfoil, it just made logical sense to get involved with the development of this amazing sport. We could use our many years of experience in the hydrofoil world to offer a high-quality range of windfoils for windsurfers. Our windfoils benefit from the expertise of the company and all the patented technology developed by AlpineFoil, such as the "sacrificial anode". (Aluminium is unfortunately susceptible to corrosion in the saline marine environment. After intense research, AlpineFoil has found a cure that completely revolutionizes aluminium windfoil: SACS-technology (Sacrificial Anode anti-Corrosion System), developed and patented by AlpineFoil, an ultra-efficient anti-corrosion system.)

Since the early days of AlpineFoil in my garage 13 years ago, my motto has always been to achieve excellence both for the glide and for the design of our products. We realise that mostly all foils are working, but rare are those that allow you to fly with real comfort, stability, and high performance in terms of speed. To do this, nothing can be left to chance. At AlpineFoil, we seek perfection in every detail, on the choice of materials, in our manufacturing techniques, and in the final finishing of our products, no matter the product range. Our company tries to combine the high-level precision of industrial technologies with the flexibility of a craft company at best. This is what differentiates us from the large companies on the market.

WZ: You have recently launched the A1 windfoil concept, with both alloy and carbon construction. Would you tell us a bit more about the foil and its modular concept?
The windfoil A1's concept is clear: design a modular and scalable windfoil, as efficient as possible in order to give the rider a regular progression. The idea is to start from a foil at the top of the range and then make a more affordable version with an aluminium mast, while keeping the features of the premium version.
With this modularity concept, we wanted to offer the aluminium foil with 4 different types of foil heads: Tuttle, Deep Tuttle, Powerbox, and Plate, so that it can be adapted to wide variety of boards. AlpineFoil has established a reputation as a quality supplier in the kitefoil industry thanks to our advanced technologies, and we want to continue in the same direction when it comes to windfoiling.

WZ: Windfoiling is still very young. How do you see the future of windfoiling? Just a trend or a true revolution in modern windsurfing?

It will become a new standard, for sure. We have already seen this in the kitesurf industry. Windsurfing was a revolution in the 80's, then kitesurfing in the 2000's, kitefoiling became a commercial success in 2010, and now it is windfoiling's turn to create its revolution!
Many former windsurfers, as myself, will come back to the sport to try and experience the foiling advantages. This is definitely a true revolution in which we are proud to be a part of!

WZ: Damien, thank you for answering our questions. The last word is yours. Do you have anything to add to finish off this interview?

My grandfather often said to me "why settle for 'just ok' when perfection is at hand?"
Today, this is the vision which guides our company.

Thanks to Windfoil Zone for all the work you do!

NB! Stocks of AlpineFoil A1 are limited due to a high demand.

Please check the amazing website of WindFoil Zone which is the bible of WindFoil : https://www.windfoilzone.com