Kitefoil ACCESS V3.5
Access V3.5 AlpineFoil kitefoil - Choice of carbon wing : Lift 800, Lift1000, Wave 700 or Optional Wave 1200 + carbon stabilizer - KF-Box or 4 holes plate. Level: beginner to expert.
Availability: In stock
1 189,00€ inc. tax - 990,83€ excl. tax
Availability: In stock
1 268,00€ inc. tax - 1 056,67€ excl. tax
Availability: In stock
1 189,00€ inc. tax - 990,83€ excl. tax
Availability: In stock
1 388,00€ inc. tax - 1 156,67€ excl. tax
Availability: In stock
1 588,00€ inc. tax - 1 323,33€ excl. tax
Availability: In stock
1 385,00€ inc. tax - 1 154,17€ excl. tax
Availability: In stock
1 488,00€ inc. tax - 1 240,00€ excl. tax
Kitefoil AlpineFoil ACCESS V3 :
Price 990,83 Euros exVAT

Level : beginner to competitor
CARBON ALUMINIUM KF-Box ACCESS V3 KITEFOIL HYDRO HYDROFOIL FOIL KITE ALPINEFOIL
Kitefoil Access V3.5 - VR5 foilboard Pack 2
Découverte du Kitefoil Alpinefoil Access V3.5 - Unboxing
Innovations :

+ Fuselage :
• Rounded rostrum for more safety but always present to guide the flow, in order to fully exploit the potential of the wing,
• Refined drift for better flow and optimal trajectory control,
• Optimized wedging.
+ Mast :
• New housing installation profile (type B) : reinforced mast at the base of the housing and side milling removed to increase rigidity and strength.
• Internal mast leash (option).
Présentation Kitefoil - ACCESS V3
+ Housing :
• Double fixing screws for more reliability and rigidity,
• Anodized aluminum OAD 70 microns housing, which allows use in seawater,
• Type B profile for deeper installation of the mast as well as for a laminar flow of water.
The AlpineFoil ACCESS V3 kitefoil is completely removable and interchangeable: this exceptional versatility offers the rider a real possibility of progress.
Stronger, more rigid, more stable, more secure, more accessible, more manageable, more reliable and with a design ever more worked : in addition to its incredible performances, the ACCESS V3 will offer you extraordinary sensations.

We have kept :

• Carbon fiber wings,
• 6061 T6 aviation aluminum machined with 5-axis CNC,
• Compatibility with RTeam wings,
• Compatibility with the Access Carbon RTeam mast,
• The interchangeability of the mast and the masthead box (compatible with most boards on the market),
• The long fuselage for optimum stability,
• Patented AlpineFoil GIS, VAS, RSS, MCF * technologies,
• Torx bolting supplied,
• The assembly of all elements with a single key,
• An outstanding lightness,
• An unbeatable value for money.


* MCF Monobloc continuous Carbon Fiber
VAS Variable Angle System
RSS Reflex Stability System
GIS Galvanic Isolator System

This package includes : Carbon matte finish Lift standard wing + stabilizer, fuselage and mast of 95cm aluminum 6061 T6 aviation machined with 5-axis CNC, GIS galvanic isolators, A4 stainless steel mounting bolting, KF-Box housing.
Which AlpineFoil foil to buy ? How to choose your foil according to your level : beginner, confirmed, expert ? How much is it ? New or secondhand ? Contact us here.
For more information, consult our dedicated Access V3 page here.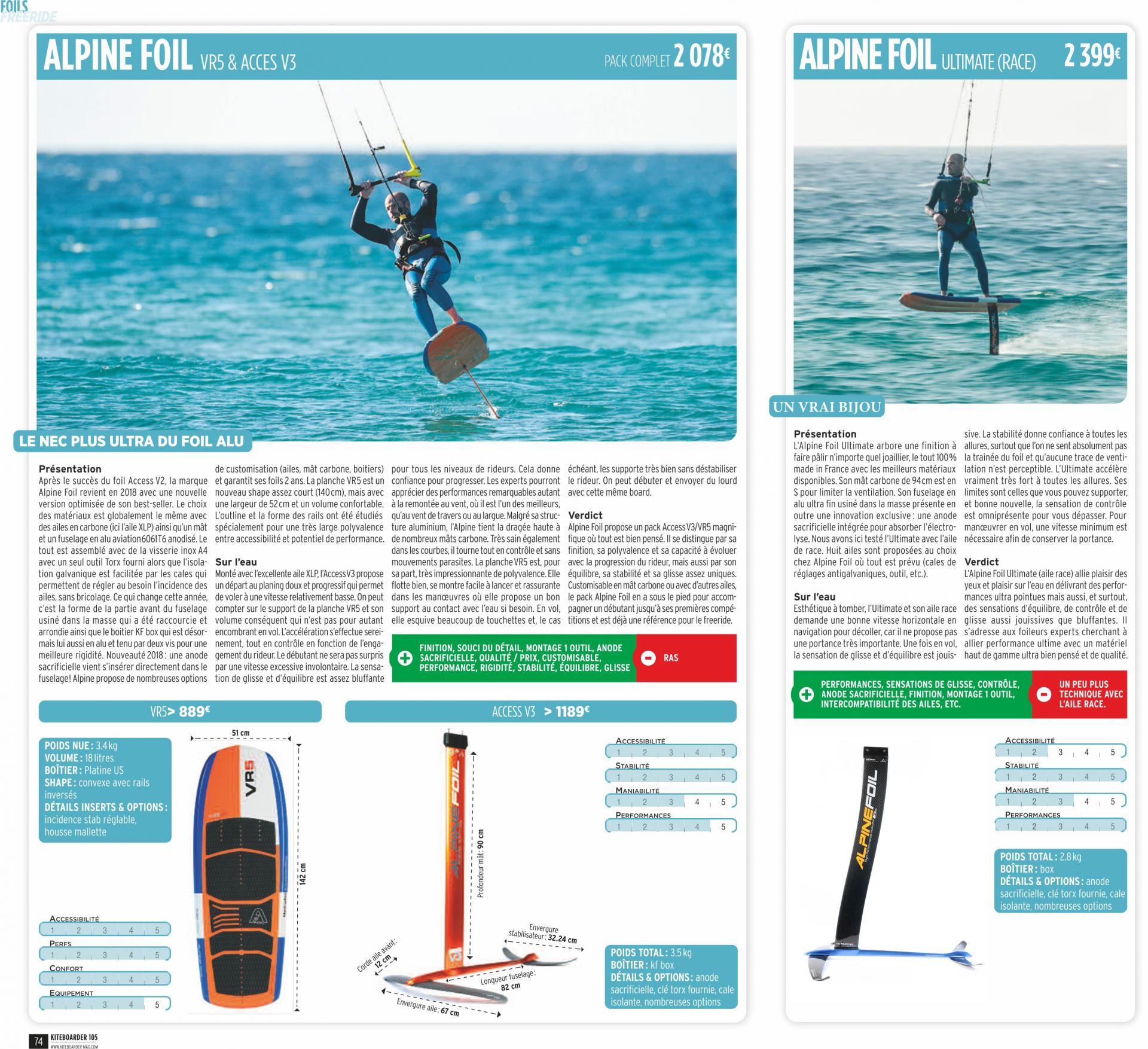 You need to be connected to post a comment