Wing Race M 580 - Race Wing Medium
Specifications
The Race M 580 is a universal wing that combines performance, accessibility, comfort and stability.
It's the perfect compromise, light wind, strong wind, stability, speed and ease of piloting.
Program: Race / FreeRace / Cruising / Freeride,
Excellent stability in swells and rough water,
Super comfortable in strong and gust winds,
Very good upwind,
Good low end, easy in tacking and jibing,
Precise trajectory at all navigation speeds,
Comfort and precision at hight speed,
Progressive and homogeneous behavior on all axis,
Stifness of the profile,
Kitefoil & Windfoil.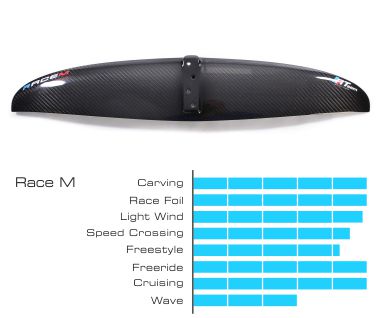 Extraordinary versatility !
Kitefoil & windfoil carbon wing RACE M580 - Made in France
Stability, maneuverability and outstanding performance in the strong wind, while maintaining an ultra low range in the light wind!
The Race M580 completes the current Race wing range and takes its place between the RLW 700 and the Race 400.
If you don't have a Race Wing yet, it's a good choice of wing because it will cover the range from light winds to strong winds.
Compared to the RLW 700 which is specifically oriented light wind and maximum optimization of the low beach (kitefoil), the Race M 580 will start in light wind while maintaining a good behavior in strong winds and sea formed.
Its performance will be lower than the RLW 700 with a slightly slipping glide due to a different profile and a lower elongation.
On the other hand its stability in the strong wind and the agitated sea will allow you to accelerate with all serenity.
Although the Race appeals to speed, the M580 also excels in cruising, freerise and freestyle.
As comfortable in kitefoil as windfoil
In Kitefoil, The M580 Race is a joy in the tacks and jibes, no need to keep a high speed, the transitions pass in all ease thanks to their excellent lift at low speed.
In Windfoil, the jibes will also be easy thanks to its double bend profile which offers excellent lift and a very large speed range.
Its stability will also apart from comfort at high speed, make the happiness of freeriders and freestylers looking to send tight curves with large catches.
For fans of Big Air, it will allow you to send big jump in very little air with the possibility of folding without touching the water.
In windfoil from 15 knots it will offer a great glide with very good acceleration and excellent longitudinal stability even in the gusty winds.
In kitefoil it can be considered to be able to use it with very little air in wind ranges from 7 to 35 knots with kites of different types and sizes.
With a kite box the Race 580 M is proving to be a formidable racing and cruising wing whereas with a small wave sail it will be a pleasure to send tight curves in the swell.
In windfoil it will start at around 15 knots with a sail of 5.7 and will delight you in the wind range 17 - 25 with a 5 m or a 4.2. It can also grow around 30 knots of wind with a smaller sail while maintaining a lot of comfort.
For more details and details on this new wing, don't hesitate to contact us by phone to discuss with our expert who will allow you to give you more information depending on your template and the material you plan to use .
Alpinefoil pre-sales service: +33 4 58 00 57 80
Construction
The M580 Race is a complex wing, it was designed without compromise for performance. She benefits from all the experience on the profiles acquired by Alpinefoil. Its French manufacture uses the best materials of the market resulting from the French factories and Switzerland.
The price determination takes into account the real costs of materials and manufacturing time to achieve a level of finish up to our expectations. the finish of the wings can be the choice: carbon mate RTeam or carbon gloss Rteam for even more performance, progessivity and glide.
Information about different finishes of alpinefoil.
to access to the kitefoil windfoil shop, it's here
You need to be connected to post a comment