Windfoil A1 RACE Carbon
Windfoil AlpineFoil A1 RACE Fuselage 122 cm Carbon Wing + Carbon RACE Stabilizer RTeam - Deep Tuttle Box.
From initiated to expert level
Windfoil AlpineFoil A1 RACE CARBON:
FREERACE/ CRUISING Carbon mast 97 cm useful.
Carbon High M40J Module
Fuselage 122 cm
Compatible Carbon Wing: Regata 1100, 850, 580, ULW 1200 and RACE RTeam Carbon Stabilizer.
Deep Tuttle Box integrated into the mast
Adjustable rake (0°,0.8°,1.5°)

Notice Manuel Windfoil Alpinefoil A1 Race.pdf (1.47 Mo)


du lundi au jeudi 8h-12h 14h-19h - Vendredi 8h-12h


Availability: Last stock remaining, contact us
LIGHT WIND CARBON ALUMINIUM FOIL HYDROFOIL HYDRO ALPINEFOIL TEST REVIEW FOILBOARD
Why to choose the windfoil AlpineFoil A1 RACE CARBON?

​ High modulus carbon mat M40J - 97 cm / 103cm total
(better stiffness / fineness of profile ratio)

​ ULTIMATE Sliding and Rigidity

​ 122 cm fuselage

​ Race carbon stabilizer as standard

​ Adjustable rake 0 °, 0.8 °, 1.5 ° (mat board angle)

​ Carbon effort recovery plate (optional)

​ unique anti-corrosion system (SACS) by Sacrificial Anode

​ FRDS technology by AlpineFoil

​ Ultra Light Wind optimization

​ Evolution carbon wings 1200,1100,1000, 900, 800, 700, 580, 400

​ Accessible to all

​ Race / Freerace / Cruising

AlpineFoil offers now the performance for every one :
With a new generation of carbon windfoil.
(For all to know contact us +33 4 58 00 57 80 or let yourself be tempted by a small test)
This package includes: RTeam carbon wing of your choice + Race RTeam full carbon stabilizer, 97cm / 103cm mast (with box) Carbon RTeam with integrated Deep Tuttle housing, 5-axis CNC machined aluminum fuselage, sacrificial anode, GIS shims , A4 Torx mounting hardware.
* SACS : Sacrificial Anode anti-Corrosion System
FRDS : Fuselage with Reduced Drag System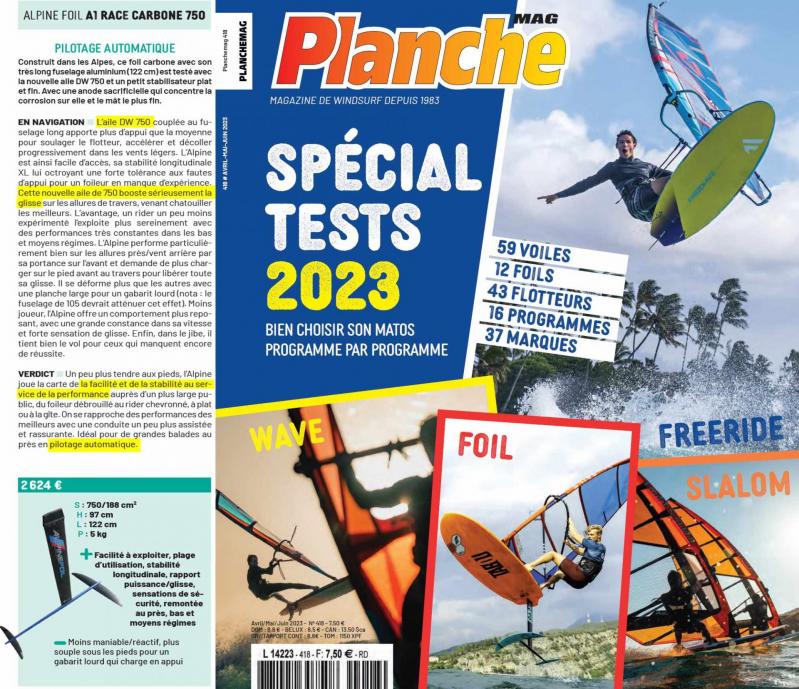 Windfoil AlpineFoil A1 SPORT / A1 RACE
Windfoil AlpineFoil A1 Race - Session ultra light wind au Lac du Monteynard
You need to be connected to post a comment