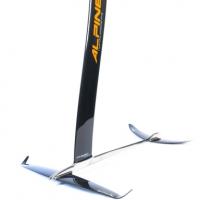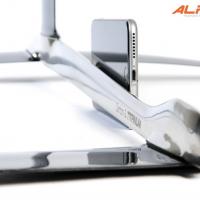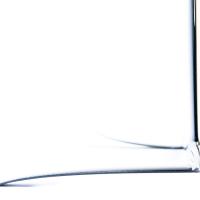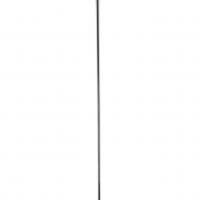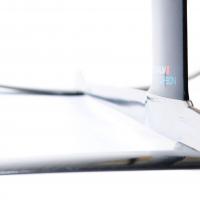 Innovations:
New construction of the carbon pieces :
Now eqquipped with the all new AlpineFoil AIR technology which ensures a significant gain in lightness and maneuverability, while remaining ultra rigid.
Fuselage totally renewed:
Rounded rostrum for more safety, but still advanced over the wing for unmatched performance,
Finer section and drift, 100% optimized for optimal laminar flow and trajector control,
Improved karmans,
Advanced wedging with maximum adjustment possibilities
FRDS* technology by AlpineFoil that further optimizes the already sensational glide of Titanium .

We have kept:
The RTeam carbon fiber wings and mast,
5-axis CNC machined titanium,
The long fuselage for an extraordinary stability,
AlpineFoil patented technologies ACS, GIS, VAS, RSS, MCBox *,
Torx hardware A4 supplied,
One mounting key for all elements,
Exceptional lightness,
Unusual strength and rigidity,
Unbeatable quality.

* FRDS: Fuselage with Reduced Drag System
ACS: Anti Cavitation System
VAS: Variable Angle System
RSS: Reflex Stability System
MCBox: Monobloc Carbon Box


The kitefoil AlpineFoil Titanium is the most prestigious foil ever. Result of a mix of know-how and high performance technologies, the Titanium reveals unlimited capacities.
Rigid, resistant, light, stable, safe, reliable, design, fast, sensational and efficient, the Titanium is the height of foils on the market. Its glide, of an extraordinary quality signed AlpineFoil, will impress you by its fluidity and vivacity.

This package includes : Carbon matte finish choice of wing + RTeam carbon matte stabilizer + RTeam carbon matte mast with integrated KF-Box, titanium fuselage machined with 5-axis CNC, GIS wedges, A4 stainless steel mounting bolting.

Which AlpineFoil foil to buy ? How to choose your foil according to your level : beginner, confirmed, expert ? How much is it ? New or secondhand ? Contact us here.

For more information, consult our dedicated Titanium page here.
Recommended
Torx mounting compact key, allowing an optimal tightening of the elements of your foil, this key ensures...

17.50€ inc. tax

Details

Foilboard VR5, 139 x 49 - 26 liters - Program : Foil, Freeride, beginner to expert. Delivered without...

1 099.00€ 999.00€ inc. tax

Details

Foilboard FS3 XS V2, 124 x 48 - 25 liters - Program : Foil, Freestyle, Freeride, beginner to expert. Delivered...

1 099.00€ 999.00€ inc. tax

Details

FoilBoard VR3 V2, 139 x 48 - 20 liters - Program : Foil, Freeride, beginner to expert. Delivered without...

999.00€ 899.00€ inc. tax

Details

Foilboard FS3 V2, 124 x 48 - 25 liters - Program : Foil, Freestyle, Freeride, beginner to expert. Delivered...

1 099.00€ 999.00€ inc. tax

Details

Top of the range cover Designed specifically for the Pocket Pro Carbone 112 but also compatible with...

189.00€ 149.00€ inc. tax

Details

Ultra compact Windfoil and Kitefoil transport cover Ideal for travelling or transporting your foil in...

169.00€ 129.00€ inc. tax

Details

New Footstrap Alpinefoil kitefoil, neoprene 8 layers with shape memory, ultra comfortable strap, asymmetry...

45.00€ 40.50€ inc. tax

Details

Ultra-innovative pocket kitefoil, Ultra Light (1.9 kg 100% carbon - 112 x 47 made in France du...

1 399.00€ 1 299.00€ inc. tax

Details

100% Carbon RTeam wing HA (High Aspect) 750 cm² - 770 mm Wingfoil / Windfoil / Surf Foil...

749.00€ 699.00€ inc. tax

Details
You need to be connected to post a comment